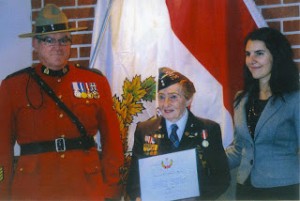 By Robert Frank
www.thesuburban.com
Four more Pierrefonds-Dollard constituents received the Queen Elizabeth II Diamond Jubilee Medal last month, as a year of celebrations to mark the 60th anniversary of the monarch's reign drew to a close.
Member of Parliament Lysane Blanchette-Lamothe presented the insignia to Madeleine Thibault Meyers, Lovie Rivard, Mukhbir Singh and Samer Majzoub.
Thibault Meyers, a World War II Royal Canadian Air Force veteran, overcame resistance to become the first female pilot in Quebec and helped Air Cadets to achieve their dreams in the field of aerospace.
Rivard, who developed post-polio syndrome early in life, said that "instead of being depressed, I decided to accept this challenge and be of use to the community."
She has supported anti-bullying programs, Big Brothers, Mother Theresa's Children's Foundation and children with AIDS.
Mr. Singh is a precocious leader of the Montreal Sikh community, having become the youngest person to join the executive of his gurdwara. He also played a leading role in founding Concordia and McGill universities' Sikh student associations, and works closely with interfaith organizations to promote harmony at institutions of higher learning.
Mazjoub founded Al Hijrah, an Arabic newspaper and business directory, as well as the Pierrefonds' Arabic High School. He also collaborated with Hema Quebec to encourage
Montreal's cultural communities to donate blood, organizing many blood drives for the city's Arab, South Asian and Muslim communities.
Canada minted the Diamond Jubilee Medal as a way to recognize people who have made a significant contribution to Canadians.
(Left to right) Royal Canadian Mounted Police
Sergeant-Major Robert Boivin, World War II
Royal Canadian Air Force veteran Madeleine
Thibault Meyers and Pierrefonds-Dollard riding's
representative in the federal parliament
Lysane Blanchette-Lamothe.
(function(i,s,o,g,r,a,m){i['GoogleAnalyticsObject']=r;i[r]=i[r]||function(){
(i[r].q=i[r].q||[]).push(arguments)},i[r].l=1*new Date();a=s.createElement(o),
m=s.getElementsByTagName(o)[0];a.async=1;a.src=g;m.parentNode.insertBefore(a,m)
})(window,document,'script','//www.google-analytics.com/analytics.js','ga');
ga('create', 'UA-45892555-1', 'robertfrankmedia.blogspot.com');
ga('send', 'pageview');