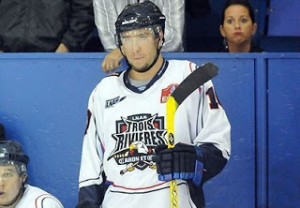 By Robert Frank
www.thesuburban.com
Sébastien Cyr, who played six seasons for Pont Rouge and Trois Rivières teams in the
Ligue nord-américaine de hockey (LNAH),
collapsed while sparring at the Sherbatov mixed martial arts gym at 3860 Notre Dame, just before 2 p.m, Feb. 9. He was taken by ambulance to Sacré Cœur hospital, where he was pronounced dead.
The cause of his sudden demise remains a mystery.
"He was 34 years old and quite well-known: a tough guy and in excellent shape with no known heart or medical problems," Laval police Sgt. Frédéric Jean told The Suburban. "The file was transferred to coroner Karine Rudel-Tessier, who will be conducting an autopsy."
The well-liked, 220-pound Cyr—who was known as an enforcer and accumulated many hours of penalties during his hockey career—had hung up his skates to pursue a career in mixed martial arts.
"He was a player respected by all, who left his mark as a fierce competitor in 161 hockey games," LNAH vice-president of communications Denis Boisvert said in a statement.
"It was with deep regret that we learned of his passing. He will be missed not only by his immediate family, but also by his many teammates and opponents with whom he had forged friendships off the ice."
(function(i,s,o,g,r,a,m){i['GoogleAnalyticsObject']=r;i[r]=i[r]||function(){
(i[r].q=i[r].q||[]).push(arguments)},i[r].l=1*new Date();a=s.createElement(o),
m=s.getElementsByTagName(o)[0];a.async=1;a.src=g;m.parentNode.insertBefore(a,m)
})(window,document,'script','//www.google-analytics.com/analytics.js','ga');
ga('create', 'UA-45892555-1', 'robertfrankmedia.blogspot.com');
ga('send', 'pageview');