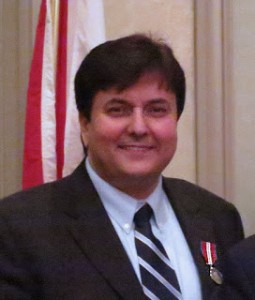 By Robert Frank
www.thesuburban.com
Canadians of Indian origin elected Pierrefonds resident Naseer Mehdi Khan as president of the India Canada Organization (ICO), Feb. 9.
Khan, who one week earlier received the Queen Elizabeth II Diamond Jubilee medal from Immigration Minister Jason Kenney, will head an organization that brings together Montreal's growing South Asian community, regardless of faith.
Each August, ICO organizes Montreal's colourful India Day parade, to celebrate the unity of India's wide range of ethnicities, and encourages pride in Indian-Canadian culture.
Members of the West Island's South Asian community dominate the new leadership, including vice-presidents Raj Kapoor (Pierrefonds) and Kishore Tandon (Vaudreuil). They also elected Darbari Lal (Dollard des Ormeaux) to serve as treasurer as well as Gobind Tanwani (Dollard des Ormeaux) as secretary and Kiran Kapoor (Pierrefonds) as joint secretary.
Mending divisions
Khan's election reflects efforts during the past year to heal deep dissention that has, for several years, riven Montreal's Indian community.
The Suburban obtained Federal Court of Canada documents, which reveal that Khan's politically prominent predecessor—Daljit Singh Kalkat—served four years in an American prison and, in 1992, was deported from the United States.
The LaSalle resident's identity came to light after Montreal police arrested him, following an accusation of domestic violence. A routine fingerprint check revealed—and he subsequently acknowledged—that has his name is Baljit Singh Wadyal.
Court records show that under the name Wadyal, he was arrested, tried and convicted in New York for possessing a kilogram of heroin in 1987.
"According to his own testimony, his arrests [in India] were for the investigation of a murder," read the judgment denying his appeal of the U.S. deportation order.
However, Federal Court of Canada records show that he used the Kalkat name to apply for refugee status when he arrived in Canada in 1994, and that he failed to disclose that he had been in the United States. Instead, he declared to Canadian officials that he had been living India during that period.

In its ruling to revoke his refugee status, the court cited the inconsistencies in the information that he provided.
Naseer Mehdi Khan
(function(i,s,o,g,r,a,m){i['GoogleAnalyticsObject']=r;i[r]=i[r]||function(){
(i[r].q=i[r].q||[]).push(arguments)},i[r].l=1*new Date();a=s.createElement(o),
m=s.getElementsByTagName(o)[0];a.async=1;a.src=g;m.parentNode.insertBefore(a,m)
})(window,document,'script','//www.google-analytics.com/analytics.js','ga');
ga('create', 'UA-45892555-1', 'robertfrankmedia.blogspot.com');
ga('send', 'pageview');