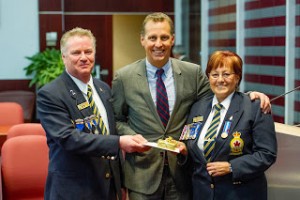 Membership includes young Afghanistan veterans


By Robert Frank
www.thesuburban.com
Laval Mayor Alexandre Duplessis rang in the start of the Chomedey Legion's golden jubilee year, during a ceremony at city hall, Feb. 12.
Branch 251 of the Royal Canadian Legion was founded by Romuald Foran and 15 other World War II veterans who met to apply for a charter on Nov. 5, 1963.
Fiftieth anniversary co-chair Suzanne Bergevin told The Suburban in an interview that the Chomedey Legion plans to hold a variety of commemorative activities throughout the year, "leading up to a big party in October."
"Today, the club has more than 200 members, including some new members who have served in Afghanistan, as well as veterans of earlier conflicts," she explained. "We organize the Remembrance Day parade at the Laval cenotaph in front of city hall every year, and are the only Legion branch left that visits the veteran's hospital in Ste. Anne de Bellevue every month."
"Our doors open every day at 2 p.m., and often remain open late into the night, if evening activities are planned," Bergevin continued.
The Legion also offers best dinner-dance deal in the region, where members can enjoy supper and live music every Sunday for just $10.
"We get about 80 people here every Sunday," she enthused. "We also hold many other activities like darts every Wednesday afternoon and organize outings every once in awhile to help our senior members remain active."
Serving modern-day vets


In its heyday, more than 500 members belonged to the Chomedey Legion, recalled Les Stockwell, who served as president from 1982-1984.
"Over the years, the World War II veterans got older and died off, and now we are down to 214 members, of whom about 50 are veterans of World War II, Korea and Afghanistan," he told The Suburban.


"One of the Afghanistan members is only 24 and has already been a member for a couple of years," Stockwell enthused. "It's a very active Legion branch and we hope that more of them join and take over.
(Left to right) Chomedey Legion president Christopher Wheatley, Laval Mayor Alexandre Vaillancourt and Legion 50th-anniversary co-chair Suzanne Bergevin.
(function(i,s,o,g,r,a,m){i['GoogleAnalyticsObject']=r;i[r]=i[r]||function(){
(i[r].q=i[r].q||[]).push(arguments)},i[r].l=1*new Date();a=s.createElement(o),
m=s.getElementsByTagName(o)[0];a.async=1;a.src=g;m.parentNode.insertBefore(a,m)
})(window,document,'script','//www.google-analytics.com/analytics.js','ga');
ga('create', 'UA-45892555-1', 'robertfrankmedia.blogspot.com');
ga('send', 'pageview');