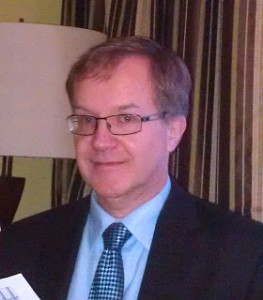 By Robert Frank
www.thesuburban.com
Jacques Foucher has plans to run an austere campaign in his bid for election as Laval's mayor in November.
"I intend to run as an independent, like Andrée Boucher did successfully when she ran for mayor of Quebec City in 2005," the 63-year-old Fabreville resident told The Suburban in an interview.
"She budgeted only $5,000 for her whole campaign, with no posters or campaign machine," Foucher recalled. "It sends a message that—if we can organize an efficient election strategy —once in office we probably will act likewise."
Non-partisan spirit


"The impartiality you gain by not associating with a party is a distinct advantage," he continued, acknowledging the success of cities without municipal political parties like Pointe Claire, where policy is forged by consensus.
"It really helps you resolve competing interests when people don't feel a reflexive need to oppose you," Foucher enthused. "Even Michael Appelbaum in Montreal withdrew from all political partisanship in order to treat everyone impartially. Logically, it serves the public quite well."
Foucher is intimately acquainted with civic administration, having worked in a succession of senior municipal posts during the past two decades. He is currently city clerk for Joliette, having previously served in similar positions in Sainte Cathérine, St. Jérôme and Châteauguay.
Wresting back control


If elected, he vows to implement a system for tendering and managing municipal contracts that is already helping Joliette and other Quebec cities to stem corruption.
He said that the first step will be to clarify and simplify the language of municipal contracts.
"For example, we found price adjustment clauses scattered in up to four different places in Ministry of Transport contracts," Foucher explained. "Such complexity makes it harder to manage."
"The result? Loss of control," he asserted. "The more you disperse related clauses in a contract, the greater you risk getting taken for a ride."
Small is beautiful


Foucher's second strategy to help Laval regain control of its affairs is to split up giant municipal contracts into smaller ones that many companies can compete on.
"Big contracts squeeze out small- and medium-sized firms that don't have enough resources or insurance protection," he observed. "If you divide them into smaller contracts, more players can bid, more firms will get to work and controlling the execution of the contract is easier to supervise, because, with so many players, it will be difficult for anyone to conspire or intimidate people without someone, somewhere cracking and disclosing what is going on."


Voilà !


To improve the transparency of Laval's civic administration, Foucher also wants stricter control on how much non-profit corporations can get before they have to follow the same disclosure rules as other companies.
"Place Bell is an example of how non-profits are used to skirt the rules for awarding and auditing [government] projects," he stated. "I am calling for the Quebec government to adopt a law so that any non-profit that in one year gets, say, $100,000 or more from a city, will be subject to the same access to information law that binds other companies with respect to tenders and the awarding of contracts."
Foucher said that he also wants Laval to improve it infrastructure planning, so that maintenance, repair and improvement to cities buildings is no longer done on a reactive basis.
"There's no planning for managing the city's inventory of buildings," he concluded. "For example, Laval has nine arenas that very much need refurbishing. We need to know their status and have a plan for what each of them will need three, five and ten years hence. Right now we're in the dark."
Jacques Foucher's outsourcing plan aims to retake control of Laval's municipal contracts.
(function(i,s,o,g,r,a,m){i['GoogleAnalyticsObject']=r;i[r]=i[r]||function(){
(i[r].q=i[r].q||[]).push(arguments)},i[r].l=1*new Date();a=s.createElement(o),
m=s.getElementsByTagName(o)[0];a.async=1;a.src=g;m.parentNode.insertBefore(a,m)
})(window,document,'script','//www.google-analytics.com/analytics.js','ga');
ga('create', 'UA-45892555-1', 'robertfrankmedia.blogspot.com');
ga('send', 'pageview');