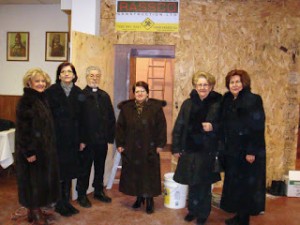 By Robert Frank
www.thesuburban.com
It will soon be easier for mobility-challenged parishioners to participate in parish life at St. Nicholas Greek Orthodox Church at 3780 du Souvenir, in Laval.
This week, the 5,000-member parish is putting the finishing touches on an elevator that will help the congregation's handicapped to participate more fully in the church's activities.
"Our handicapped members are very happy about this project," enthused parish priest Rev. Vassilios Tsaprailis.
"The church built a ramp outside to permit wheelchair access 15 years ago," he explained.
"That afforded access to the main floor," he said "but every Sunday service, we conduct activities downstairs, and it was difficult for many people who were unable to use the stairs to partake."
"To help them, we started to collect money two years ago," Rev. Tsaprailis continued. "It cost about $100,000 to make the renovations."
Work commenced on the project three weeks ago.
"This will be a tremendous help during big religious feasts such as Easter," he enthused.
Rev. Tsaprailis underscored the strength of the city's burgeoning Hellenic population.
"In Laval there are more than 30,000 Greek people," he said.
Census results released by Statistics Canada, Oct. 24, showed that Laval's cultural communities increased to about 30 per cent of the population, up from about 20 per cent just five years earlier.
Members of Philoptochos—St. Nicholas Greek Orthodox Church's ladies' benevolent society—join Rev. Vassilios Tsaprailis inspecting a new elevator that will help elderly and mobility-challenged parishioners.
(function(i,s,o,g,r,a,m){i['GoogleAnalyticsObject']=r;i[r]=i[r]||function(){
(i[r].q=i[r].q||[]).push(arguments)},i[r].l=1*new Date();a=s.createElement(o),
m=s.getElementsByTagName(o)[0];a.async=1;a.src=g;m.parentNode.insertBefore(a,m)
})(window,document,'script','//www.google-analytics.com/analytics.js','ga');
ga('create', 'UA-45892555-1', 'robertfrankmedia.blogspot.com');
ga('send', 'pageview');