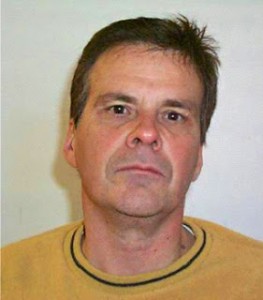 By Robert Frank
www.thesuburban.com
After 25 years behind bars, convicted first-degree murderer Raymond Rouette succeeded in absconding, Jan. 31.
The 51-year-old Ste. Anne des Plaines prisoner was on an escorted, temporary visit to Montreal, when he made off, according to a statement by Corrections Canada spokesman Serge Abergel.

"Corrections Canada and the Ste. Anne des Plaines Institution will be conducting a joint investigation into the circumstances surrounding the incident," he said.
Rouette is 168 cm tall, weighs 69 kg and has brown eyes, brown hair and a scar on his left eye.
"He has been serving an indeterminate sentence since Feb. 25, 1988," Abergel added. "We are working with Montreal police to locate this offender as qickly as possible.
Corrections Canada is asking anyone who could help locate Rouette to contact police.
Raymond Rouette
(function(i,s,o,g,r,a,m){i['GoogleAnalyticsObject']=r;i[r]=i[r]||function(){
(i[r].q=i[r].q||[]).push(arguments)},i[r].l=1*new Date();a=s.createElement(o),
m=s.getElementsByTagName(o)[0];a.async=1;a.src=g;m.parentNode.insertBefore(a,m)
})(window,document,'script','//www.google-analytics.com/analytics.js','ga');
ga('create', 'UA-45892555-1', 'robertfrankmedia.blogspot.com');
ga('send', 'pageview');