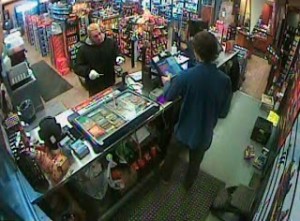 Laval police dossier: Thieves hit bank machine, dépanneur robbed
By Robert Frank
www.thesuburban.com
A disgruntled former employee suffered severe burns to his face and body after he botched trying to set his former employer's car alight, Jan. 26.
The 32-year-old suspect called 911 at 11 p.m. and asked for medical help, after he burned his eyes while he was trying to ignite a 1999 Toyota Tercel located at 4500 Mille Îles in St. François district.
"The individual was a suspect in a previous case, in which the victim did not press charges, as well as for making threats to that effect," Sgt. Frédéric Jean told The Suburban.
Police placed the man under arrest before Urgences santé transported him to the Cité de la santé superhospital for medical treatment.
Money on ground
At around 1:10 a.m., Jan. 26, a security guard at Carrefour Laval noticed $20 bills strewn around the shopping mall's parking lot near door number three.
"He tracked the bills and discovered that an automated banking machine had been smashed in," reported Sgt. Jean, who was unable to say how much money had been stolen.
No images or description of the perpetrators is available.
Robber wields screwdriver
Laval police are asking for the public's help in identifying a man who robbed a local convenience store.
The man entered the dépanneur at 408 Cartier West around 7:15 p.m., Jan. 8, and asked the cashier for a package of cigarettes.
While the cashier's back was turned, the suspect brandished a long screwdriver and threatened the employee.
The robber, speaking French, asked the employee to give him cash. "The suspect fled on foot," Const. Franco di Genova told The Suburban. Police did not receive any information about which direction the suspect headed.
He said that the suspect was a 40-year-old white man who spoke French with a slight accent. The man was 1.8 metres tall, weighed 72 kg and had rippled, yellow-tinted hair.
Convenience store armed robberies have been rife of late in Laval, imperiling dépanneur employees' life and limb. Const. di Genova urged anyone with information that could help identify or locate the suspect to call the Laval police confidential hotline at 450-662-INFO (4636), or call 911 and mention file number LVL 120108 063.
Laval police are hoping that members of the public will recognize the distinctive, bristly yellow haircut of the man brandishing a screwdriver in this photo them identify and locate this armed robbery suspect, who spoke French with a foreign accent.
(function(i,s,o,g,r,a,m){i['GoogleAnalyticsObject']=r;i[r]=i[r]||function(){
(i[r].q=i[r].q||[]).push(arguments)},i[r].l=1*new Date();a=s.createElement(o),
m=s.getElementsByTagName(o)[0];a.async=1;a.src=g;m.parentNode.insertBefore(a,m)
})(window,document,'script','//www.google-analytics.com/analytics.js','ga');
ga('create', 'UA-45892555-1', 'robertfrankmedia.blogspot.com');
ga('send', 'pageview');