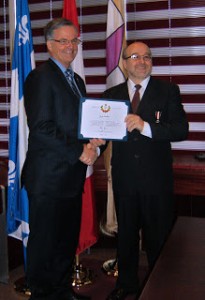 By Robert Frank
www.thesuburban.com
Thirteen Laval les Îles riding residents received the Queen Elizabeth II Diamond Jubilee medal, Feb. 2.
Member of Parliament François Pilon officially presented the medal during a colourful morning ceremony at Laval's city council chamber.
The honoured included George Bacoyannis (service to the Laval English-speaking community), Gisèle Balthazard (Les Lames d'argent figure skating club founder), Francine Gauthier (30 years Loisirs de Laval Ouest), Carole Giroux (Club des Petits déjeuners), Florence Landry (60 years in municipal politics), Carmen Lanoue (Development and Peace), Elizabeth McLeod (service to the needy in Laval's English-speaking community), André Ouellet (25 years the voice of Les Canadiens' national anthem), Guy Ouellette (30 years public service as a policeman and politician), Sergeant Gabrielle Roselli (12 years Canadian Army, including service in the former Yugoslavia), Lise Senécal (30 years Laval Multiple Sclerosis Association), Master Corporal Hugues Van den Abeele (The Black Watch of Canada) and Master Corporal Rémi Voyer (Army veteran and retired United Nations peacekeeper also known for his work with Opération Enfant Soleil).
Canada minted the Diamond Jubilee Medal to mark the 60th year of Queen Elizabeth II's reign, as a way to recognize people who have made a significant contribution to Canadians.
Chomedey's representative in the Quebec legislature since 2007 was honoured for 30 years of public service, Feb. 2. Former policeman turned politician Guy Ouellette previously served with distinction as a peace officer with the Sûreté de Québec, where he rose to the rank of sergeant.
(function(i,s,o,g,r,a,m){i['GoogleAnalyticsObject']=r;i[r]=i[r]||function(){
(i[r].q=i[r].q||[]).push(arguments)},i[r].l=1*new Date();a=s.createElement(o),
m=s.getElementsByTagName(o)[0];a.async=1;a.src=g;m.parentNode.insertBefore(a,m)
})(window,document,'script','//www.google-analytics.com/analytics.js','ga');
ga('create', 'UA-45892555-1', 'robertfrankmedia.blogspot.com');
ga('send', 'pageview');