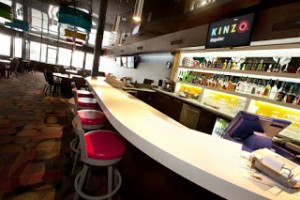 By Robert Frank
www.thesuburban.com
Loto-Québec announced the opening of a new Kinzo hall, Jan. 30, in Galeries Laval at 1545 le Corbusier. The Quebec government's lottery corporation said in a statement that light meals and beverage service will be offered at the new facility in Laval, which will feed local appetite for bingo-style network gambling in the island city.
The Kinzo bar will be managed by Group Bouclé, a marketing and advertising firm, operated by Gilles Clément of Laval and Benoît Bougie of Oka. Group Bouclé already runs Kinzo halls in St. Eustache and St. Vincent de Paul. The facility will permit up to 90 players at a time to bet $2 each on a 15-number ticket.
Kinzo is a bingo-like game which is played simultaneously in all the network's bingo halls. According to the lottery corporation, each game takes about six minutes to play, meaning that the facility will take in about $20 per hour from each continuous player, in addition to restaurant and bar revenue. Prizes range up to a $100,000 so-called "super jackpot" for matching all 15 numbers on a card out of 37-numbers called.
Loto-Québec encourages gamers to persevere by offering numerous smaller prizes, permitting about 20 winners per hour throughout Quebec. Loto-Québec created a subsidiary in 1997, known as Société des bingos du Québec, to promote network gaming, particularly Kinzo.
The Quebec Kinzo network includes similar gambling halls in Montreal, Vaudreuil-Dorion, Longueuil, Joliette, Repentigny, St. Jean sur Richelieu, Drummondville, Victoriaville, Granby, Sherbrooke and Quebec City.
Loto-Québec mixes meals and drinks with gaming at its new Laval Kinzo parlour.
(function(i,s,o,g,r,a,m){i['GoogleAnalyticsObject']=r;i[r]=i[r]||function(){
(i[r].q=i[r].q||[]).push(arguments)},i[r].l=1*new Date();a=s.createElement(o),
m=s.getElementsByTagName(o)[0];a.async=1;a.src=g;m.parentNode.insertBefore(a,m)
})(window,document,'script','//www.google-analytics.com/analytics.js','ga');
ga('create', 'UA-45892555-1', 'robertfrankmedia.blogspot.com');
ga('send', 'pageview');