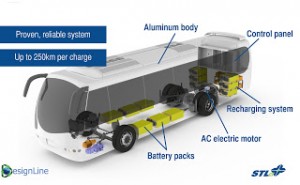 Quebec wants to electrify province's entire mass-transit fleet
By Robert Frank
www.thesuburban.com
Commuters could be riding an electric bus this spring, if all goes well with testing a new, battery-powered bus just delivered to the Société de transport de Laval (STL).
Quebec taxpayers will be helping to subsidize the $2 million pilot project to the tune of $600,000, and Hydro Quebec is kicking in another $100,000.
Before the public gets a ride, though, STL plans to test its prototype thoroughly.
The North Carolina firm that built the electric bus claims that they can travel 200 km on a single charge. However, that's under ideal conditions.
Winter cold reduces battery efficiency, plus some energy will be needed to heat the interior of the bus. Since the bus is equipped with a rooftop air conditioner, it also remains to be seen how much energy will be drained during the city's hot, humid summer.
Conventional buses can travel 450 km on a full tank of diesel fuel. At $500,000 each, they are much less expensive than Laval's new, $900,000 rechargable bus. Likewise, hybrid diesel-electric buses are a less expensive solution, costing about $700,000 a pop.
STL expects to conduct dry runs on city streets as early as March, but does not plan to use the bus to carry fare-paying passengers until April or May.
During a news conference, Jan. 14, STL president Jean-Jacques Beldié waxed eloquent about the new bus' green credentials.
Transport Minister Sylvain Gaureau indicated that Quebec wants to electrify mass transit throughout the province, to capitalize upon its hydroelectric potential. Laval des Rapides MNA Léo Bureau-Blouin voiced the Quebec government's ambition to achieve 100 percent electrification within 15 years.


Plus ça change
Although Mayor Alex Duplessis enthused that "STL was able to acquire the first 100 percent electric bus in Quebec and even Canada", in fact Montreal operated electric buses until June 1966, four months before the Metro opened in October that year.
Montreal was also avant-garde in operating electric streetcars from 1894 onward. Originally known as the Montreal Steel Railway, the last trolley was taken out of service on Aug. 30, 1959, though, to this day, that streetcar continues to whisk passengers around the Exporail railway museum in St. Constant, south of Montreal.
There was no limit to how long Montreal's electric buses could operate, since they were powered by efficient overhead electric catenary, which blanketed the city. In contrast, Laval's electric bus will have to be charged overnight for 6-8 hours, each time its batteries are exhausted.
With Quebec taxpayers currently absorbing the eye-watering cost of replacing crumbling highway overpasses, the move toward battery powered buses indicates that the province lacks the financial depth to invest in building new catenary or underground cable infrastructure to power more cost-effective, 24-hour electric buses like the ones that plied Montreal streets more than a half-century ago.
Laval's cool new electric bus will feature rooftop air conditioning.
BACK TO THE FUTURE:
The electric buses that served Montreal commuters until 1966 could run 24-hours-a-day, powered by far more efficient overhead electric catenary.
Montreal's last streetcar—taken out of service in 1959—continues to whisk passengers around the Exporail railway museum in St. Constant, south of Montreal/
(function(i,s,o,g,r,a,m){i['GoogleAnalyticsObject']=r;i[r]=i[r]||function(){
(i[r].q=i[r].q||[]).push(arguments)},i[r].l=1*new Date();a=s.createElement(o),
m=s.getElementsByTagName(o)[0];a.async=1;a.src=g;m.parentNode.insertBefore(a,m)
})(window,document,'script','//www.google-analytics.com/analytics.js','ga');
ga('create', 'UA-45892555-1', 'robertfrankmedia.blogspot.com');
ga('send', 'pageview');