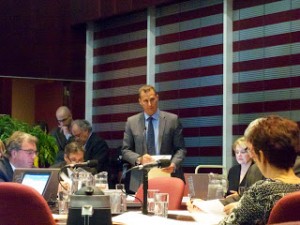 Vociferous language activists oppose distribution of English newsletter
By Robert Frank
www.thesuburban.com
The next edition of Vivre à Laval will include a small card asking recipients to indicate whether they prefer to receive the city's quarterly review in English or French.
Mayor Alexandre Duplessis disclosed to The Suburban in an interview, Jan. 17 that the city decided to poll Chomedey residents' language preference after a group of language activists, led by a resident named Mr. Coupal, hounded city council during its Jan. 14 meeting.
A small crowd amongst the spectators vociferously supported Coupal, as he denounced the Laval's policy of distributing of an English version together with the French edition of the city newsletter to homes in Chomedey.
The district, represented on city council by Basil Angelopoulis, has long been home to a significant English population. Still more Chomedey residents hail from other cultural communities, whose burgeoning share of Laval's population jumped 50 percent during the preceding five years, according to census results released by Statistics Canada, Oct. 24.
Mayor Duplessis appeased the shouts from the audience of « C'est la Loi »! by telling the crowd that he would review Laval's distribution policy in light of the city's statutory obligations.
"Our mission is to inform citizens and provide them with all the information about all municipal activities that they need," Mayor Duplessis told The Suburban afterward. "We want to give better service to citizens, which is why we take the opportunity to circulate 38,000 copies of Vivre à Laval in English."
"For the past four or five years, some citizens have received two copies of the newspaper, in French and in English, in the same mailing," he recalled. "However, since we have to respect the law, we will adapt our approach."
"When the next edition is published in the spring, we will circulate as usual both editions in French and English, and ask citizens to tell us via a reply coupon or web site whether they want to receive
Vivre à Laval
in English or French."
"Thereafter, we will publish both editions but send only the language version that has been requested," he continued. "We want to give better service to citizens, so that is the way that we will resolve this problem."
"We have to respect the
Office québécois de la langue française,"
Mayor Duplessis acknowledged. "We are a French city, and that is the law, but we will do our utmost to provide the most information possible to citizens."
Language activists pressured Laval mayor Alexandre Duplessis, Jan. 14, to stop providing the city's quarterly review in English to Chomedey residents.
(function(i,s,o,g,r,a,m){i['GoogleAnalyticsObject']=r;i[r]=i[r]||function(){
(i[r].q=i[r].q||[]).push(arguments)},i[r].l=1*new Date();a=s.createElement(o),
m=s.getElementsByTagName(o)[0];a.async=1;a.src=g;m.parentNode.insertBefore(a,m)
})(window,document,'script','//www.google-analytics.com/analytics.js','ga');
ga('create', 'UA-45892555-1', 'robertfrankmedia.blogspot.com');
ga('send', 'pageview');