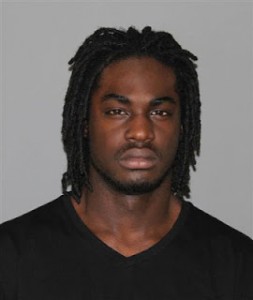 Suspected pimp charged with human trafficking
By Robert Frank
www.thesuburban.com
Laval and North Shore police services have broken up a criminal gang that preyed on underage, teenage runaways, forcing the girls into prostitution.
Inspector Dany Gagnon announced at a news conference, Dec. 11, that they have arrested four people, including the 19-year-old alleged ringleader, Kevin Dorcelus-Cetoute. They stated that they have laid 14 charges against the Terrebonne, Quebec, resident. The most serious accusations entail human trafficking in minors, pimping and living off the avails of prostitution.
Police said that two of the victims have already come forward and that they believe that Dorcelus-Cetoute victimized other young girls.
They indicated that they have also arrested an 18-year-old woman whom they allege was an accomplice. They said that they have laid three charges against the woman, which include pimping. They added that they have arrested two other individuals for violating the conditions of their release.
Once the girls were recruited, police alleged, the pimp would use a combination to threats, blackmail and violence to coerce them to prostitute themselves. They explained that he used the Internet to advertise their services, which were provided in Laval hotels.
Police added that this sort of crime is difficult to detect, because the victims often think that they are responsible for their plight and are overwhelmed by guilt. They said that many young girls who have fallen into a pimp's clutches often rationalize what they are doing and have no idea that it's completely illegal to act this way.
In addition to laying criminal charges, police have partnered with the Laval crime victim's aid group known as CAVAC, in order to help the young girls. According to CAVAC's Marie-Claude Côté, the centre offers the girls who have come forward free, confidential psychosocial support and accompanies them to court proceedings.
Laval police are imploring any members of the public who have information about Dorcelus-Cetoute to call their confidential hotline at 450-662-INFO (4636).
Laval police allege that Terrebonne resident Kevin Dorcelus-Cetoute, 19, ran a human trafficking ring that ensnared runaway, teenage girls.
(function(i,s,o,g,r,a,m){i['GoogleAnalyticsObject']=r;i[r]=i[r]||function(){
(i[r].q=i[r].q||[]).push(arguments)},i[r].l=1*new Date();a=s.createElement(o),
m=s.getElementsByTagName(o)[0];a.async=1;a.src=g;m.parentNode.insertBefore(a,m)
})(window,document,'script','//www.google-analytics.com/analytics.js','ga');
ga('create', 'UA-45892555-1', 'robertfrankmedia.blogspot.com');
ga('send', 'pageview');