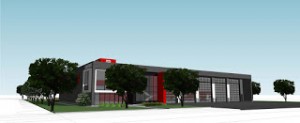 By Robert Frank
www.thesuburban.com
One of the goodies in Mayor Alexandre Duplessis' first municipal budget was a provision to spend $5.4 million to build a new fire hall to serve residents in Chomedey district.
The new facility will soon begin to rise on a site at the intersection of du Souvenir and Armand Frappier.
"The decision to build was driven by a real need because the existing fire hall—the busiest of Laval's nine fire stations—no longer has enough space to conduct operations efficiently," Duplessis said in a statement.
The station's ten firefighters and four officers expect to move in some time in 2014. New equipment will include new ladder and pump trucks, as well as a marine unit and equipment that will permit firefighters to respond to incidents involving dangerous goods.
The city is still studying what to do with the existing Chomedey fire hall, which is located adjacent to city hall, once its current occupants move out.
Municipal officials are also crowing about the new building's environment-friendliness. Fire department spokeswoman Justine Leroux told The Suburban that the fire hall will be constructed according to an international standard known as Leadership in Energy and Environmental Design (LEED).
She added that the new fire hall which was built at 530 Principale Street in Ste. Dorothée is also LEED-certified.
Architect's sketch of new Chomedey fire hall
(function(i,s,o,g,r,a,m){i['GoogleAnalyticsObject']=r;i[r]=i[r]||function(){
(i[r].q=i[r].q||[]).push(arguments)},i[r].l=1*new Date();a=s.createElement(o),
m=s.getElementsByTagName(o)[0];a.async=1;a.src=g;m.parentNode.insertBefore(a,m)
})(window,document,'script','//www.google-analytics.com/analytics.js','ga');
ga('create', 'UA-45892555-1', 'robertfrankmedia.blogspot.com');
ga('send', 'pageview');