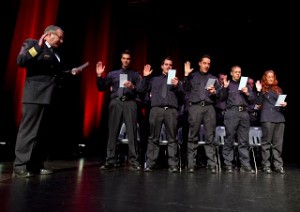 By Robert Frank
www.thesuburban.com
Eighteen young men and women vowed to dedicate their careers to protecting Laval residents and business from the threat of fire, Nov. 27.
During a colorful ceremony at Collège Laval's Marcellin-Champagnat Theatre, Laval fire chief Alain Gauthier gave 17 firefighters and one fire prevention inspector recruits their oath of office.
Following the swearing-in, the fire department also took time to honour the work some two dozen fire instructors and project managers for their accomplishments.
"The effectiveness of the department is, first and foremost, founded on the experience and quality of our staff," Gauthier told the gathering. "It's very important for me to give pause to recognize those who have dedicated their lives to serving the populace."
The city's firefighters also paused for an emotional remembrance of the life of Thierry Godfrind, a Montreal firefighter who recently died in the line of duty.
Fire Chief Alain Gauthier swears in the 18 newest members of Laval's fire department
(function(i,s,o,g,r,a,m){i['GoogleAnalyticsObject']=r;i[r]=i[r]||function(){
(i[r].q=i[r].q||[]).push(arguments)},i[r].l=1*new Date();a=s.createElement(o),
m=s.getElementsByTagName(o)[0];a.async=1;a.src=g;m.parentNode.insertBefore(a,m)
})(window,document,'script','//www.google-analytics.com/analytics.js','ga');
ga('create', 'UA-45892555-1', 'robertfrankmedia.blogspot.com');
ga('send', 'pageview');