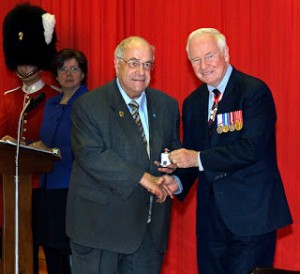 By Robert Frank
www.thesuburban.com
Brother Fabien Landry received the Governor General's Caring Canadian Award in Montreal, Nov. 27.
The Rt. Hon. David Johnston officially presented the medal to the Laval resident during a formal ceremony at the Fuisiliers Mont-Royal regiment's armoury.
Brother Landry, who served as director general of Collège Laval from 1976-1994, earned the distinction for his work in support of Haiti's children—particularly orphans and those who suffer from HIV or AIDS.
The Governor General's Caring Canadian Award recognizes living Canadians and permanent residents who have made a significant, sustained and unpaid contribution to communities in Canada and abroad.
The objective of the award is to recognize individuals who often work inconspicuously behind the scenes, volunteering their time and effort to help their fellow citizens.
The award also highlights how Canadians' compassion and engagement serves as an example for others to emulate, and how that selfless spirit of giving is part of Canada's national character.
Brother Fabien Landry with Governor General David Johnston
Photo: Cpl. Roxanne Shewchuck
(function(i,s,o,g,r,a,m){i['GoogleAnalyticsObject']=r;i[r]=i[r]||function(){
(i[r].q=i[r].q||[]).push(arguments)},i[r].l=1*new Date();a=s.createElement(o),
m=s.getElementsByTagName(o)[0];a.async=1;a.src=g;m.parentNode.insertBefore(a,m)
})(window,document,'script','//www.google-analytics.com/analytics.js','ga');
ga('create', 'UA-45892555-1', 'robertfrankmedia.blogspot.com');
ga('send', 'pageview');