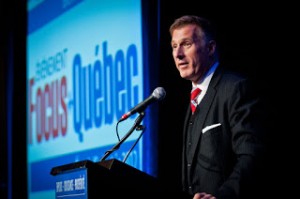 By Robert Frank
www.thesuburban.com
Federal cabinet minister Maxime Bernier told dépanneur owners who gathered in Laval, Nov. 14, that the Canadian government plans to come to the rescue of small business owners who are suffocating in red tape.
"In consultations across the country, they identified more than 2,300 irritants that plague businesses day in and day out," he said in his remarks to Association québécoisee des dépanneurs en alimentation members.
"Henceforth, regulatory agencies will have to cut a rule every time that they want to introduce one that places a new burden on businesses," Bernier promised. "Small business is at the heart of Canada's entrepreneurial spirit."
He said that 90 new reforms that will affect 18 federal agencies.
"Regulators will have to put themselves in the shoes of small business owners every time that they propose a regulation."
"They need to ask themselves whether the information what they're requesting has already been gathered by another ministry; whether it's possible to implement a less demanding regulation; and whether they're communicating in a clear and straightforward fashion."
Maxime Bernier wants to hold federal government departments accountable for the regulatory burden they impose on small businesses.
(function(i,s,o,g,r,a,m){i['GoogleAnalyticsObject']=r;i[r]=i[r]||function(){
(i[r].q=i[r].q||[]).push(arguments)},i[r].l=1*new Date();a=s.createElement(o),
m=s.getElementsByTagName(o)[0];a.async=1;a.src=g;m.parentNode.insertBefore(a,m)
})(window,document,'script','//www.google-analytics.com/analytics.js','ga');
ga('create', 'UA-45892555-1', 'robertfrankmedia.blogspot.com');
ga('send', 'pageview');