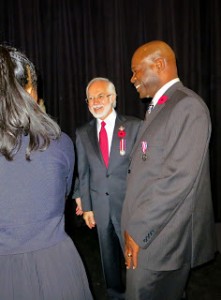 By Robert Frank
Two West Island residents received the Queen Elizabeth II Diamond Jubilee medal in Montreal, Nov. 11.
Quebec Lieutenant-Governor the Hon. Pierre Duchesne officially presented the medal to Dorval resident Sherman Blunte and Dollard des Ormeaux resident Gemma Raeburn-Baynes during a formal ceremony at Collège Maria Assumpta.
Blunte oversees Amcal's court-mandated supervised visits program (
www.amcal.ca
) and, together with Diane Prangley, founded PositivEffects (
www.positiveffects.ca
), a Pointe Claire firm that imparts life-skills, tutoring and coaching for West Island youth.
He received the medal for having helped more than two hundred Quebec youth who were seriously at risk, filling a vital gap by taking on the task of guiding youth whom no one—schools, youth programs or parents—had been able to help.
Raeburn-Baynes was recognized as a strong advocate for the promotion of culture through the performing arts and anti-racist education. She was cited for her tireless work for the advancement of and contribution to Caribbean & Black culture to a multicultural Canada.
Proceeds from her
Taste of the Caribbean
(
www.atasteofthecaribbean.ca
) food festival funds
Triumph Through Adversity,
a scholarship that enables disenfranchised youth to study culinary arts. She also initiated several multicultural programs at Bank of Montreal to help visible-minority youth, which earned Bank of Montreal plaudits from the Conference Board of Canada.
Canada minted the Diamond Jubilee Medal to mark the 60th year of Queen Elizabeth II's reign, as a way to recognize people who have made a significant contribution to Canadians.
(Left to right) Quebec Lieutenant-Governor Hon. Pierre Duchesne (centre) greets Keisha Blunte (left), daughter of Queen Elizabeth II Diamond Jubilee Medal recipient Sherman Blunte (right).
(Left to right) Hon. Ginette Lamoureux, Gemma Raeburn-Baynes, Quebec Lieutenant-Governor Hon. Pierre Duchesne.
(function(i,s,o,g,r,a,m){i['GoogleAnalyticsObject']=r;i[r]=i[r]||function(){
(i[r].q=i[r].q||[]).push(arguments)},i[r].l=1*new Date();a=s.createElement(o),
m=s.getElementsByTagName(o)[0];a.async=1;a.src=g;m.parentNode.insertBefore(a,m)
})(window,document,'script','//www.google-analytics.com/analytics.js','ga');
ga('create', 'UA-45892555-1', 'robertfrankmedia.blogspot.com');
ga('send', 'pageview');