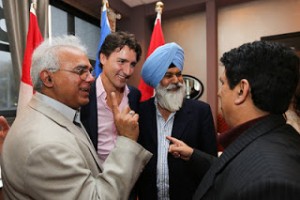 By Robert Frank
West Islanders filled Grill 21 restaurant in Dollard des Ormeaux, Oct. 31, for a breakfast with Justin Trudeau.
The federal Liberal party leadership candidate appeared at ease and relaxed, sporting jeans, jacket and open-collar shirt while speaking without notes about his 21st-century vision for Canada.
Trudeau stressed that he is offering pragmatism as an alternative to Canadians who are tired of politics-as-usual.
"I'm not so much preoccupied by ideologies," he told the early-morning crowd. "There is no more left and right. We need to elevate politics. I will draw policies from the left. I will draw policies from the right. The important thing is that they work."
Nor is it about the middle ground. Trudeau said that Canada has changed, and that "there is no mainstream any more."
He suggested that the political watchwords for the future will be "openness and respect."
"Canada is a remarkable, improbable place," he observed. Describing the country's diverse politics, he remarked that "mother nature doesn't work through homogeneity."
"In Quebec, there is a strong mainstream culture that, in the rest of Canada, seems to have faded."
Trudeau observed that the cultural divide has nonetheless diminished dramatically. He cited an era long ago when, he said, there were once greater differences in Canada between French Catholics from Montreal and English Anglicans from Toronto "than between Israelis and Palestinians today."
Trudeau also expressed his concern for the increasingly squeezed middle class. He is concerned that the country's wealth is increasingly concentrated amongst a tiny and declining proportion of the population.
(Left to right) Ram Kapila, Justin Trudeau, Paramjit Singh Gill and Raman Chopra talk about the federal Liberal leadership race during breakfast at Grill 21 in Dollard des Ormeaux, Oct. 31.
(function(i,s,o,g,r,a,m){i['GoogleAnalyticsObject']=r;i[r]=i[r]||function(){
(i[r].q=i[r].q||[]).push(arguments)},i[r].l=1*new Date();a=s.createElement(o),
m=s.getElementsByTagName(o)[0];a.async=1;a.src=g;m.parentNode.insertBefore(a,m)
})(window,document,'script','//www.google-analytics.com/analytics.js','ga');
ga('create', 'UA-45892555-1', 'robertfrankmedia.blogspot.com');
ga('send', 'pageview');