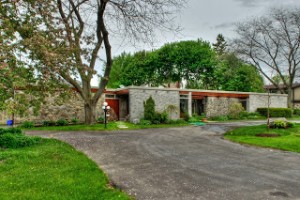 Heritage Emeritus Award
By Robert Frank
www.thesuburban.com
Four residences in Pierrefonds, Pointe Claire, Beaconsfield and Dorval have been singled out by Operation Architectural Heritage Montreal for their high quality of maintenance and restoration.
The homes that garnered the 2012 Heritage Emeritus Award were:
265 Acorn Ridge, Beaconsfield

Designed by Rosen-Caruso to reflect modern 1960s architecture, with simple shapes and volumes, the interplay of materials and inner court design and visibly well maintained.
5 Fortier, Pierrefonds

Built in 1969 to the original owner's specifications featuring a stucco façade with stone inserts, sash windows with integrated grills and a wood front door, this property has been kept in good condition through sustained maintenance.
14 Waverly, Pointe Claire

Built in 1952, this red brick bungalow has retained its simple style and most of its original architectural elements, including wood windows and shutters, as well as an arched front door with decorative woodwork reflecting the owners' commitment to preserving original components and materials.
1895 Lakeshore, Dorval

With its clapboard covering and impressive stone chimney, this 1950 single-family home stood out for its original architectural characteristics and exemplary maintenance.
According to City of Montreal spokeswoman Andrée Pelletier, the Heritage Emeritus Award started 22 years ago, when downtown Montreal was infamous for its poor housing stock and empty spaces between buildings.
"It takes time to sensitize people and change their mentality," she recalled. "The prize was inaugurated to highlight the advantage of taking good care of your house."
"It's not a contest or about renovations," Pelletier explained. "It's meant to recognize ordinary people who are passionate about maintaining their home as well as possible."
Initially limited to City of Montreal residents, about five years ago, the awards were extended to other cities on Montreal Island, including several West Island municipalities, whose town planning departments nominate deserving homeowners for their well-kept houses.
265 Acorn Ridge, Beaconsfield
5 Fortier, Pierrefonds
14 Waverly, Pointe Claire
1895 Lakeshore, Dorval
(function(i,s,o,g,r,a,m){i['GoogleAnalyticsObject']=r;i[r]=i[r]||function(){
(i[r].q=i[r].q||[]).push(arguments)},i[r].l=1*new Date();a=s.createElement(o),
m=s.getElementsByTagName(o)[0];a.async=1;a.src=g;m.parentNode.insertBefore(a,m)
})(window,document,'script','//www.google-analytics.com/analytics.js','ga');
ga('create', 'UA-45892555-1', 'robertfrankmedia.blogspot.com');
ga('send', 'pageview');