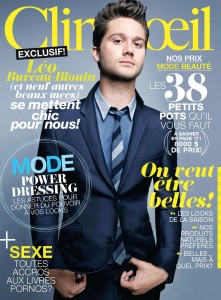 Laval office listed at last after nearly two months
By Robert Frank
www.thesuburban.com
Nearly two months after the
his election as Quebec's
youngest-ever parliamentarian,
Sept. 4, Léo Bureau-Blouin at long last has an office listed on
the National Assembly website
www.assnat.qc.ca
But even if it's no longer a game of Where's
Waldo, you can easily find the
Ste. Rose representative in most
Quebec grocery store checkout
aisles, beaming from the cover of
Clin d'Oeil magazine.

"Léo Bureau-Blouin (and nine
other gorgeous hunks) dress up
in style for us!" reads the cover
story.
The cover portrait features the
hair-gelled, sartorial politician
shot from below the waist. A thin
tie protrudes from below his
jacket button and his hands are
coiled in a classic beefcake pose.
In case the magazine's steamy
lack of subtlety eludes you, a
subheading down beside the
image of his right hand reads:
"Sex: Totally addicted to porno
books?"
The issue of the magazine
makes a nod to English with its
franglais dedication to Mode: Power Dressing. Les astuces
pour donner du pouvoir à vos
looks.
A University of Montreal
spokesman told The Suburban in an interview that Bureau-Blouin, who was accepted into
the faculty of law this fall, has
asked to defer his studies,
although he plans to take a number of courses as time permits.
Selling more than just independence
(function(i,s,o,g,r,a,m){i['GoogleAnalyticsObject']=r;i[r]=i[r]||function(){
(i[r].q=i[r].q||[]).push(arguments)},i[r].l=1*new Date();a=s.createElement(o),
m=s.getElementsByTagName(o)[0];a.async=1;a.src=g;m.parentNode.insertBefore(a,m)
})(window,document,'script','//www.google-analytics.com/analytics.js','ga');
ga('create', 'UA-45892555-1', 'robertfrankmedia.blogspot.com');
ga('send', 'pageview');