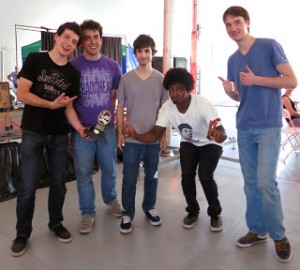 Static Kings won a closely fought contest at the Kirkland Battle of the Bands, June 16.
Organizer Kenny King applauded the talent of all the musicians, explaining that the event attracted such strong performers that only ten points separated the first and last place bands.
The competition was the centrepiece of Kirkland Day celebrations where perfect weather attracted hundreds of citizens to a wide range of youth activities at Parc des Bénévoles.
Static Kings, left to right: Charles Simpson (drums), Michael Abraham (guitar), James Frank (keyboard), Richard Norville (bass) and James Parm (guitar).