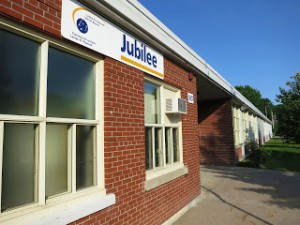 Horizon High brings hope and opportunity to West Island youth
By Robert Frank
www.thesuburban.com
Lester B. Pearson School Board will officially open Horizon High School, July 1, consolidating in a single facility alternative programs that have, for half a decade, been scattered among six different premises in the West Island region.
"All of our students are referred to us from other schools," Horizon's principal, Grant Thomas, told The Suburban in an interview. "They've all struggled, in some respects. We give them a different setting with smaller numbers in the classroom."
Mr. Thomas explained that at Horizon "there are no breaks. It is nose to the grindstone all the way.
"Our students seem to like that," he added.
He underscored that the program, which has for the past year quietly operated out of the disused Jubilee Elementary School in Pointe Claire (previously known as Northview), is already delivering results.
Mr. Thomas highlighted that "out of this year's graduating class of 22, some 80 percent have applied to go to CEGEP."
Horizon will offer three programs: junior high school and senior high school—known to many West Island parents as Cycle I and Cycle II—as well as a work pathways program.
"The work pathways program provides opportunities for students who might be capable academically but aren't interested or compliant," continued Mr. Thomas.
"It gives them Grade 10 academic credentials so, if they decide that they want to go back to school to complete high school, they can, while they gain work experience through internships."
"We also operate a basketball program as well as a boxing program, taught in collaboration with the YMCA, which helps to instil the quality of self-discipline, and we are starting a drama program."
Judging by demand, Horizon's program is extremely popular, and last year, the program already attracted more students than it was designed to handle.
"Our capacity is 140, which might seem very few to some of your readers, but you have to consider that while many of our students are extraordinarily bright and capable, all of them are very challenged in terms of behaviour or have great gaps in their education."
"We really are trying to build hope," concluded Mr. Thomas. "For these young men and women, we are creating opportunities for them to succeed."
The Jubilee sign will soon disappear from the former Northview Elementary School, with the July 1 official opening of Horizon, the West Island's newest high school.