Conservative campaign snowballs
Grassroot support is growing rapidly for Roland Dick [pronounced 'deeke']. The Conservative candidate in Laval les Îles riding has already attracted more than 130 volunteers, with dozens more signing up each week, reported campaign manager Ailsa Pehi.
Party brass have noticed and have lavished Laval with more political attention than the city has ever seen.
Last week, the latest cabinet minister to make the pilgrimage was Public Safety Minister Steve Blaney, who attended a $1,000-a-plate party fundraiser that attracted about 60 community leaders from across Laval' ethnic spectrum: including Armenians, Greeks, Lebanese and Muslims.
"The tectonic plates are shifting here," Blaney told The Suburban. "They want change and prefer to have a strong Laval voice at the decision table."
Riding residents have responded positively to Dick's populist profile, which he honed in municipal politics during the past seven years with the city's ruling Mouvement lavallois party. A slick video on his website has already attracted nearly 17,000 views.
"You can feel it," Dick said in an interview. "People already know me when I knock on their door or when I meet them in shopping malls. They want me to bridge the longstanding gap between Laval and Ottawa. We're already well-represented in Quebec City, and it's about time we had good representation in Ottawa: Laval needs in."
Blaney stressed the Conservative's track record of putting money back in taxpayers' pockets, and directing support to society's neediest and most vulnerable.
"Some 380,000 fewer elderly people pay income tax since we lowered the threshold for paying," he said in an interview.
Blaney chided outgoing NDP MP François Pilon for obstructing hikes to poor pensioners' incomes.
"The first vote that Pilon cast after he was elected was against a large increase in the guaranteed income supplement for seniors who have no income other than the old age security pension," he said.
Bloc busters
With support for the separatist Bloc Québécois party collapsing, Blaney credited Prime Minister Stephen Harper for restoring peace in Quebec, in contrast with the constant constitutional conflict of the preceding Liberal era.
"Stephen Harper has put the constitutional issue to rest," he declared. "He deserves credit for that. It's a major achievement to have made Quebecers feel comfortable in Canada, feel respected and share common values that bring people together."
"We've also boosted social transfers to Quebec for health and education to nearly $20 billion," Blaney said.
Thomas Mulcair's NDP has also committed to reopen Pandora's box by applying the province's restrictive language laws to the federal sphere in Quebec, and reducing the threshold for an independence vote.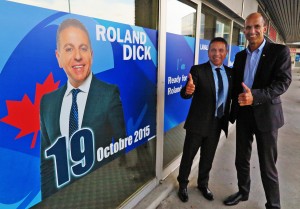 (Left to right) Laval les Îles candidate Roland Dick's grassroots campaign is gaining traction, acknowledged Conservative cabinet minister Steven Blaney, Sept. 9. (Photo © Robert Frank)