Mayor Marc Demers extolled the space-age technology going into a new condominium tower that will soon rise along the Rivière des Prairies shoreline.
The O Cartier condos will be clad in the same sort of ceramic that was developed for the tiles that protect the space shuttle from burning up when it re-enters the atmosphere, he said during a visit to the construction site beside the Pont Viau Bridge, a short walk from the Cartier Metro Station.
"It will be the first time that the technology will be employed in Quebec," the mayor enthused.
"The ceramics will help it to withstand Montreal temperature extremes—which can range from -30°C to +30°C—with fewer [expansion] joints than brick," architect Philippe Lupien told The Suburban.
"The wall that faces the sun will have solar panels that will circulate hot water throughout the building," he said in an interview.
Lupien noted that the building exterior is mostly glass to maximize residents' river view, interior natural light and solar heating potential. He added that the large balconies that punctuate the building keep the condos from overheating in summertime.
"It will also have a glass-enclosed elevator to provide a panorama of the Montreal skyline," added developer Tony De Risi.
Mayor Demers also praised the project's rooftop runoff system, which filters rainwater before returning it to the river.
"That avoids stressing the municipal sewer system, which would [otherwise] limit the development of the community to what the local infrastructure can withstand," Lupien explained.
The project has attracted much less political opposition than a Vaillancourt-era proposal to build two giant condo towers that would have overshadowed adjacent single-family homes.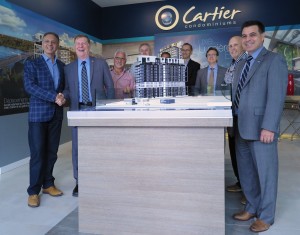 Mayor Marc Demers congratulated condo developer Tony De Risi. Joining them (left to right) are Lucio Casale, architect Philippe Lupien, investors Aurelio Palermo and Alex Grabowski, St. Vincent de Paul Councillor Paolo Galati, Marigot Councillor Daniel Hébert and St. Bruno Councillor David De Cotis.
(Photo © Robert Frank)