Quebec's Education Ministry has backed off its push to force school boards to close their underused schools before children return to class next month.
The provincial government had threatened not to fund capital improvements to schools operating at less than 50 per cent capacity. Without that cushion, a roof leak or a heating system failure could have provoked a sudden closure in the midst of the school year.
"That was reversed in the final budget rules," Lester B. Pearson School Board (LBPSB) chair Suanne Stein Day told The Suburban.
Not over yet
The reprieve merely postpones the inevitable, though.
In March, LBPSB embarked on a round of public consultation about potential school mergers that was supposed to last until Oct. 31. Stein Day said at the time that four of the board's high schools were hovering at or below the Education Ministry's 50 per cent capacity threshold.
That's down from 60 per cent in 2014, when she cited Lindsay Place as an example of one of LBPSB's sparsely populated high schools. The school board has not identified the other three high schools that are operating well-under capacity.
Stein Day confirmed that the autumn closure consultations it had originally planned remain pending.
"We never really got off track with that, as we knew it would be virtually impossible to implement the government plans," she confirmed in an electronic mail message.
"We were hugely disappointed that our proven processes related to major school change were ignored in yet another 'one size fits all' proposed measure," Stein Day said. "I guess our words were heard, though."
When she first mooted the cutbacks in March, she suggested that some school facilities could be repurposed to provide community services, adult and vocational education.
LBPSB enrolment is sagging under the double-whammy of declining demographics and Quebec's restrictive language laws. That the fall in enrolment is far from uniform, though. In the off-island communities west of Montreal, LBPSB schools are straining to accommodate the burgeoning population there.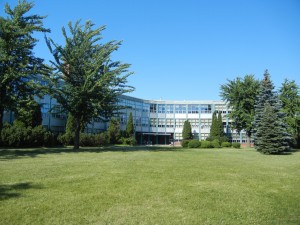 Lakeside Academy in Lachine operated at 38 per cent capacity during the 2014-2015 school year.