Emergency repairs trap residents
A contractor blocked the span that links Île Bigras with Île Jésus, Jan. 28, trapping residents on both sides of the span.
"They started emergency repairs to our bridge and ended up placing a crane in the middle of it," Laval les Îles citizens' committee president Julie Lemieux told The Suburban.
"They just closed the bridge around noontime for at least a half an hour," the Île Bigras resident said in an interview.  "Then it took another hour to untangle the traffic tie-up and get circulation back to normal."
"People couldn't get to their medical appointments or to the pharmacy," Lemieux observed. "The temperature was over 30° and people were stuck in their cars. The city told us that it was illegal for the contractor to close the bridge."
"The contractor made a unilateral decision to close the bridge to traffic," confirmed city spokeswoman Valérie Sauvé.
"As soon as residents advised the city, we asked the contractor to reopen the bridge without delay," she told The Suburban. "We advised the contractor that the city must be advised before such action is taken, and that it needs sufficient advance notice to permit it to alert citizens [that closures are pending]."
"They will not be allowed to close the bridge more than twice a day, and not during rush hour," Sauvé said.
She explained that that the city will work with the contractor to ensure that henceforth no closure will exceed 10 minutes.
As this edition of the newspaper went to press, the precise schedule was still pending.
"We are finalizing the details," Sauvé concluded. "Once we do, we will advise citizens."
According to Lemieux, the bridge is long past its best-before date.
"Engineers have been monitoring the bridge and the supporting pillars are completely finished, according to engineering reports published in 2007, 2009 and 2013," she reported.
Lonstanding foot-dragging led to the crisis, Lemieux said.
"Engineering plans are not yet finished for permanent repairs, and the city will need to expropriate properties to make room for a temporary bridge,"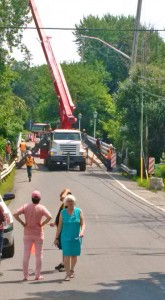 Laval city hall phone operator told islander to call Montreal after crane obstructed traffic—not realizing that Île Bigras is part of Laval.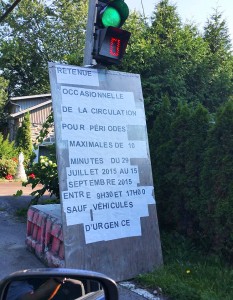 Despite contractors ransom-note style sign, city has barred builders from blocking bridge without authorization.