During last Friday morning's commute, more than 80 teachers, representing 10 schools in the municipalities of Vaudreuil-Dorion, Hudson and St. Lazare from the Lester B. Pearson School Board held a final demonstration of the school year in Vaudreuil to bring awareness to the government's upcoming financial cuts, higher class sizes, special needs students no longer receiving extra help and changes to their pensions.
"Negotiations with the Treasury Board are going nowhere," Pearson Teachers Union president John Donnelly told The Suburban.
The last in a series of demonstrations with LBPSB teachers out in full force with placards during morning or afternoon rush hours, Donnelly said the objective was to make parents aware of what changes could be coming in the fall.
"We are willing to be flexible on our salaries despite the terrible offer," Donnelly said, referring to teachers getting three percent raises over the next five years with no changes in salary over the next three years.
But eliminating help for special needs students such as integration aides and augmenting class sizes will "cause chaos in the classroom for learning."
The provincial government also wants to extend retirement age for teachers by an extra two years with severe financial penalties for educators who leave early.
"This could mean as much as $200,000 in losses for some of our senior teachers," Donnelly said. "This is unfair as our pension funds are fully funded so there is no need to do this.
"We want to provide the best service we can for the students but if the government goes ahead with these proposals, then the government's own demands for education will not be met," the union president said.
Donnelly explained that teachers will be working to rule next September but ECAs (extra curricular activities like sports or drama clubs) will not be affected.
Teachers will not be part of any committees nor take on any extra administrative work nor will there be any day trips for students next year with "a strike vote to be taken at the end of September," Donnelly said.
A letter from the union was sent out to parents of LBPSB students asking them to be proactive in decrying the upcoming cuts by calling or e-mailing their area MNA.
"We really hope the public will help us and our cause come the fall," Donnelly said.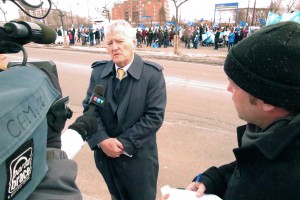 John Donnelly met with media in March while teachers protested provincial austerity in Pointe Claire.
(Photo © Robert Frank)