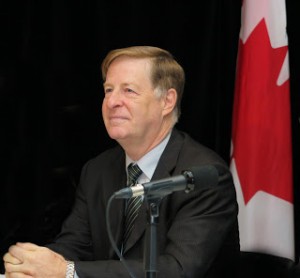 By Robert Frank
www.thesuburban.com
The Quebec Court of Appeal ruled on Friday that Marc Demers was eligible to run for office when he was elected mayor in November 2013.
The appeal justices upheld a December 2014 Quebec Superior Court judgment. Demers, who lived and worked in Laval throughout his life, successfully contended that his move to the Laurentians following his retirement was temporary, pending the acquisition of a new home in Laval.
Jacques Foucher, who filed the lawsuit after he unsuccessfully ran for mayor against Demers, told The Suburban that it was too early to say whether he intends to appeal the latest ruling to the Supreme Court of Canada.
"I will have to read the entire judgment first," he said in an interview. "We will then see. The role of the court is to interpret the law. For me, this is not a political matter. We appealed to ask the tribunal to examine at the rules [that govern Quebec municipal elections]."
"It was never a big concern for us," Laval executive committee vice-chairman David De Cotis told The Suburban. "We had done all our legal homework before Marc Demers submitted his candidacy in June 2013. The mayor was confident that this was not an issue."
De Cotis said that the judges didn't even ask Demers' lawyers to state their defence during the appeal hearing. He suggested that the only losers in this lawsuit were Laval citizens. He estimated that the city's legal bills from the case totaled $50,000-$70,000.
"The only drawback is that the people who got the short end of the stick were the taxpayers," he said in an interview.
"We've turned the page again," he concluded. "It's business as usual for us. Nothing has changed."