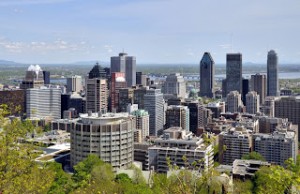 By Robert Frank
www.sqft.ca
Montreal urban planners and real estate developers need to move swiftly to plug some long-term gaps, advised Richard Highland. Flourishing condo construction has made it easy to reside downtown, but the modern infrastructure needed to sustain the flood of inmigration simply hasn't been built.
"If you can't live and work in the city core, it won't work in the long run," cautioned Kevric's ceo. "Toronto has woken up, and Montreal needs to do likewise."
"Not one new school has been built downtown," he observed. "Everyone agrees that we need them. We need parks, police and fire stations too. The question is: Who will pay?"
Toronto belatedly responded to short-sighted downtown condo development by investing its land development revenue in an infrastructure fund. For Highland, it's like pulling a page from the past.
"Once upon a time, urban planners set aside land for schools, parks and churches. Places for families," he recalled, "and the institutions that turn districts into communities. Far-sighted developers realized that they had a stake in residents remaining downtown."
Renovate, replace or remove
Hollow-out is another risk that Montreal needs to address without delay.
"During the first two months of this year, we've seen more activity in Mile End than in all of 2014," Hyland reported. "It's easier to develop there than downtown, which is dominated by older B- and C-class buildings. The capitalization rates in the city core makes it hard to justify development."
"That risks making Montreal uncompetitive," he said. "Without enormous capital injections, everyone will flee to modern buildings in the suburbs, turning the inner city into a ghost town of empty buildings."
Hyland suggested that the city reverse this trend by supporting renovation to LEED standard—the way that it already does for new construction.
"It's incredible how mixed-use LEED buildings end up consuming way less energy than our estimates," he enthused. "They use almost no energy."
Note: This report first appeared in the Spring 2015 edition of Canadian Real Estate magazine.