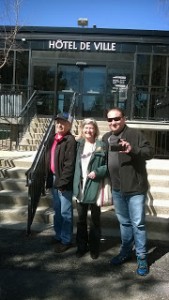 By Tracey Arial
www.thesuburban.com
Last month, Joanne Proulx, Fred Jennings and Joseph Pugliese took a cheque for $52,880.80 to the LaSalle borough office.
The payment covered Royal Canadian Legion Branch 212 property taxes for 2013 and 2014, half of the organization's water taxes for 2015, and a $45 Federal Express charge for delivering a demand letter.
"We withdrew all the money from a GIC we had set aside for building repairs," said Fred Jennings, who is president of the branch.Jennings said that most of the money for the payment originally came from Bell Canada, which paid for a long-term servitude on the property. Members had planned to use the funds to repair the brickwork and otherwise update their building.
Instead, they'll be scrambling to continue paying property taxes, which are now ten times what they were in 2012. The non-profit lost the right to reduce their property taxes under Subsection 204(10) of the Municipal Tax Act last year, after they were unsuccessful at proving that every inch of the building they occupy is used for purposes that the Quebec Government recognizes as charitable.
Several Legions have found this exercise difficult. The Legion branch in Verdun downsized, in part due to difficulties in paying the taxes they owed. At least one branch in Laval disbanded. Other non-profits, including Pointe Claire Curling Club, successfully retained their status despite arguments by City of Montreal lawyers.
Branch 212 in LaSalle hopes that they will be able to requalify for tax-exempt status by the time the 2016 tax bill arrives.
In the meantime, withdrawing enough money from the bank to write a cheque to the City of Montreal was the first official action by Proulx, who became treasurer of the branch on the first of April.
LaSalle's borough clerk politely registered the payment, although she had to check with her manager about how to properly indicate that the bill was paid "under protest."
"Now we have to start collecting funds to pay our 2015 taxes," said Proulx, after the cheque was accepted by the borough. "That's going to be a challenge."
To help the Legion raise funds, drop off a cheque at the bar at 7771 rue Bouvier or call [514] 365-0595.
Joanne Proulx, Fred Jennings and Joseph Pugliese deliver 2014 taxes to LaSalle