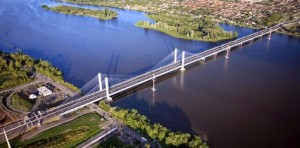 Poëti: "Where's the catastrophe?"
By Robert Frank
www.thesuburban.com
Last week, Transport Minister Robert Poëti defended a decision to increase tolls on the Highway 25 bridge that a links Laval and Montreal.
On June 1, tolls will rise from $1.88 to $2.20 during off-peak hours, a 17 per cent increase. At rush hour, the current fee of $2.50 will go up to $3.16, a 21 per cent jump.
"It's called a contract," Poëti said in the National Assembly, April 30, in response to a question posed by Parti Québécois transport critic Martine Ouellet, reminding her that the private company which operates the bridge sets toll prices, not the Quebec government.
"I don't know where the catastrophe is," he replied, "but we have to remember one thing: when we negotiate contracts we have environmental and traffic flow considerations that simply have to be respected."
Ouellet suggested that the bridge is merely a boondoggle for rich commuters in private vehicles.
One bus pass to rule them all
However, Poëti retorted that the public-private partnership that made the bridge possible also benefits public transit users by dedicating a reserved lane for buses.
He also signaled the Quebec government's intent to tighten the terms of its contract to favour commuters who use mass transit.
"Indeed, we would like to encourage commuters to use public transit," Poëti concluded. "I thought…that we could gradually work toward a contract that lets people use mass transit without [paying] additional fees. Wouldn't that be good news?"
Last week, Poëti unveiled a plan to unify mass transit agencies surrounding Montreal in Laval, Longueuil and the North Shore. One of the objectives is to streamline transfers from one transit authority to another by harmonizing their monthly pass systems.
Laval is concerned that this could jeopardize its independent initiatives, like free bus fare for senior citizens.
(function(i,s,o,g,r,a,m){i['GoogleAnalyticsObject']=r;i[r]=i[r]||function(){
(i[r].q=i[r].q||[]).push(arguments)},i[r].l=1*new Date();a=s.createElement(o),
m=s.getElementsByTagName(o)[0];a.async=1;a.src=g;m.parentNode.insertBefore(a,m)
})(window,document,'script','//www.google-analytics.com/analytics.js','ga');
ga('create', 'UA-45892555-1', 'auto');
ga('send', 'pageview');