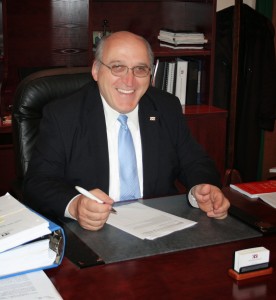 By Robert Frank
www.thesuburban.com
Former Sir Wilfrid Laurier School Board (SWLSB) chair Steve Bletas is to make a move from education to public transportation.
As this week's edition of The Suburban went to press, Bletas was expected to be named to the board of directors of the Laval transit authority Société de transport de Laval (STL).
"We asked Mr. Bletas, who himself uses Laval's handicapped transportation services, to consider taking a seat on the seven-person board of directors," STL chair and Laval executive committee vice-chairman David de Cotis told The Suburban.
"Given that he has been a Laval resident almost his whole life, his service with SWLSB and his highly credentialed curriculum vitae, the executive committee approved his candidacy with pleasure and enthusiasm," de Cotis said in an interview. "He will be able to represent commuters who use handicapped transportation services."
STL offers a door-to-door transit service called paratransit for qualified people whose disability severely impairs their mobility. The service is only available by reservation. More information about Laval handicapped transport services is available by clicking the 'paratransit service' link on STL's English web page: stl.laval.qc.ca/en/
Bletas is a consultant who has resided in Ste. Rose since 1998. He chaired SWLSB from 1998-2012 and ran again unsuccessfully during the 2014 school board election won by his opponent Jennifer Maccarone.
He also served on the boards of the Sir Wilfrid Laurier Foundation, the Laval health care authority and was a member of the American Helenic Educational Progressive Association (AHEPA).
(function(i,s,o,g,r,a,m){i['GoogleAnalyticsObject']=r;i[r]=i[r]||function(){
(i[r].q=i[r].q||[]).push(arguments)},i[r].l=1*new Date();a=s.createElement(o),
m=s.getElementsByTagName(o)[0];a.async=1;a.src=g;m.parentNode.insertBefore(a,m)
})(window,document,'script','//www.google-analytics.com/analytics.js','ga');
ga('create', 'UA-45892555-1', 'auto');
ga('send', 'pageview');
Steve Bletas