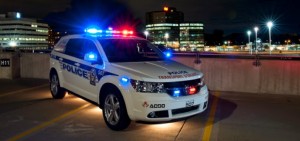 By Robert Frank
www.thesuburban.com
Last year, Laval's finest carried three-dozen organs from human donors to surgeons in other cities waiting to implant the organs into waiting recipients.
"We have a list of officers who volunteer to transport organs," explained Laval Police Sgt. Frédéric Jean. "They traveled some 9,300 km in 2014, to drive the organs—and the surgeons who accompany them—to their destinations."
"Sometimes we also transport the members of the specialized surgical team that will be performing the organ transplant to another city," he added.
The Canadian Organ Donors Association provides 11 emergency vehicles to police departments across Quebec, including one to Laval.
"Often they will go to the airport, if the organ is coming from far away," explained Sgt. Jean, who himself volunteers on the organ transport team. "But it's faster to travel by [emergency vehicle] from Laval or Montreal to destinations like Quebec City than to fly there. Last year, I went from Sacré Cœur in Montreal to Hôtel Dieu in Sherbrooke, Quebec. On other occasions, we meet Sûreté du Québec teams for a handoff in cities like Drummondville or Trois Rivières, depending on how long it took to get the organ."
"Everyone has to be ready when the organ is harvested and the receiver is in surgery awaiting its arrival, so everything has to be well-coordinated," he added.
Sgt. Jean urged the public to sign organ donor cards.
"Those organs can save lives," he said.
School bus strikes elderly woman
An 82-year-old woman is lucky to be alive after being struck by a school bus, around 8:15 a.m., April 22.
"The woman was walking on the north side of Cléroux with her hood up and the fur covering her head when the westbound bus made a turn off of Cléroux," said Sgt. Jean. "With the hood up, she didn't see the bus while crossing the street. It struck her and she fell to the ground and was [afterward] brought to hospital for a possible skull fracture."
As this week's edition of The Suburban went to press, the woman was in stable condition and expected to pull through. Neither the driver nor the 19 students aboard the bus suffered any injury.
Mystery powder triggers lockdown
Firefighters evacuated the premises of Algorithme Pharma at 11 a.m., April 22, and decontaminated six employees, after a receptionist opened an envelope containing an unknown powder.
"Two people who reported symptoms including headaches and tingling sensations were brought to hospital for treatment," reported Sgt. Jean. "Sûreté du Québec specialists who came on-scene to take charge of the suspicious envelope and reported the following day, that while the exact nature of the substance remained under analysis, it was deemed to be non-toxic."
"It's too early to determine a motive for the incident," he added.
Laval's specialized organ-transport emergency vehicle traveled 9,300 km last year.
(function(i,s,o,g,r,a,m){i['GoogleAnalyticsObject']=r;i[r]=i[r]||function(){
(i[r].q=i[r].q||[]).push(arguments)},i[r].l=1*new Date();a=s.createElement(o),
m=s.getElementsByTagName(o)[0];a.async=1;a.src=g;m.parentNode.insertBefore(a,m)
})(window,document,'script','//www.google-analytics.com/analytics.js','ga');
ga('create', 'UA-45892555-1', 'auto');
ga('send', 'pageview');