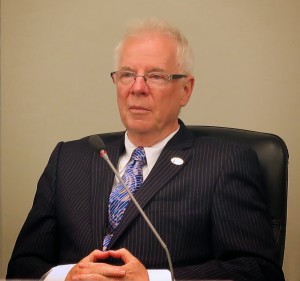 Stein Day: "More difficult choices coming"


By Robert Frank
www.newscoverage.org
It was standing room only at Lester B. Pearson School Board (LBPSB) headquarters, April 28, where some 75 kindergarten teachers and their supporters packed the council chamber, while others who couldn't get in stood in the hallway just outside.
The teachers told elected school commissioners that they were dismayed that LBPSB has decided to reduce teaching time for tots by a total of 18 minutes a day.
"The board-wide cuts to kindergarten teachers hours will reduce specialist teachers," said Greendale kindergarten teacher Pina Fulginiti, where music instruction for the youngsters might be affected by the cutback."
"Kindergarten is a crucial time," she told LBPSB chair Suanne Stein Day. "It will affect our art, music, drama and physical education specialists."
A sympathetic Stein Day explained that the province only provided funds for the extra 18 minutes per day for grades 1-6, and that LBPSB had hitherto paid for kindergarten students to do likewise out of its budget surplus.
"We can no longer use our budget surplus," she said, in the wake of drastic budget cutbacks, since the province no longer allows school boards to run a surplus. She said that that left LBPSB with no choice but to cut the 18 kindergarten minutes.
"It's not a decision that we wanted or liked to make," Stein Day said. "Hopefully people in Quebec City will get this message as well.
"More difficult choices are coming," she added.
"The government has announced cuts to education of over $350 million," Stein Day warned. "There is some talk that $131 million of this will be reduced by eliminating salary increases for teachers."
"On one hand, we're happy that maybe our potential cuts will go down, but do we want to do that on the back of our teachers? Our front-line people? Our keys to success?" she asked.
"The [school boards'] meeting with the Education Minister didn't go all that smoothly," Stein Day said. "The Minister appeared to listen to [Quebec English School Boards Association (QESBA) President] David D'Aoust, then really just blew him off. So it was a bit of a disappointment."
In response to a question from Commissioner Josh Arless, Stein Day said that LBPSB pays QEBSA about $8 per student to meet with government officials on school board matters.
"They are also a lobby organization for us and provide professional development for us," she said.
LBPSB chair Suanne Stein Day announced Monday that director general Robert Mills will retire after a more than 42-year education career.
(Photo © Robert Frank)
(function(i,s,o,g,r,a,m){i['GoogleAnalyticsObject']=r;i[r]=i[r]||function(){
(i[r].q=i[r].q||[]).push(arguments)},i[r].l=1*new Date();a=s.createElement(o),
m=s.getElementsByTagName(o)[0];a.async=1;a.src=g;m.parentNode.insertBefore(a,m)
})(window,document,'script','//www.google-analytics.com/analytics.js','ga');
ga('create', 'UA-45892555-1', 'auto');
ga('send', 'pageview');