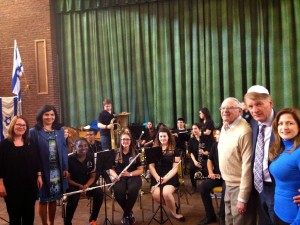 By Robert Frankwww.thesuburban.com
Laval Liberty High School students took time last week to share their musical acumen with members of the Chomedey Seniors Club.
The event, held at the Young Israel of Chomedey Synagogue, April 16, was an effort by the Chomedey Seniors Club's to mark the 50th anniversary of the forced merger that forged the City of Laval from 14 independent municipalities on Île Jésus in 1965.
Although the city rejected the Chomedey Seniors Club's proposal for this to be included among the official Laval semi-centennial celebrations, the official opposition party at city hall, Action Laval, stepped in to fill the breach.
Like each of Action Laval's four elected represenatives on city council, Chomedey Councilor Aglaïa Revelakis decided to reserve $5,000 from the money that the city allocate to each city councilor for research so that she could earmark it to support worthwhile events that the city had turned down. Revelakis leads the opposition caucus at council.
Action Laval dubbed the alternative 50th anniversary events "the other 50th".
Chomedey Councilor Aglaïa Revelakis (second from left) was joined by students from the Laval Liberty High School Orchestra. Action Laval leader Jean-Claude Gobé (wearing white kippah) is joined by Chomedey Seniors Club president David Beiner (to his left).
(function(i,s,o,g,r,a,m){i['GoogleAnalyticsObject']=r;i[r]=i[r]||function(){
(i[r].q=i[r].q||[]).push(arguments)},i[r].l=1*new Date();a=s.createElement(o),
m=s.getElementsByTagName(o)[0];a.async=1;a.src=g;m.parentNode.insertBefore(a,m)
})(window,document,'script','//www.google-analytics.com/analytics.js','ga');
ga('create', 'UA-45892555-1', 'auto');
ga('send', 'pageview');