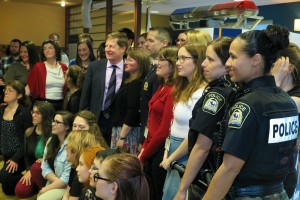 By Robert Frank
www.thesuburban.com
A traveling exhibit will lay bare the history of Laval's Police service this summer at city libraries as well as at the Cosmodome.
Twenty-two Montmorency College museum technology students put the exhibit together during the past year.
The project proved a real eye-opener, as most of them were completely unfamiliar with policing at the outset.
"It was unlike anything we had ever done before," one commented.
Besides working with members of the police service, the students also collaborated closely with the Île Jésus genealogical and historical society.
Money for the $24,000 project came from funds earmarked to commemorate the city's 50th anniversary. That was a bargain, police officials said. They estimated that the hours that the students worked over the course of two semesters were worth the equivalent of more than a quarter-million dollars worth of labour, if the city had had to pay for their time at the minimum wage rate.
The students managed to capture the spirit of the men and women who wear the Laval police service uniform, while keeping the exhibit jazzy enough to interest the general public.
"It accurately depicts what we do and conveys that reality to the citizens of Laval," Chief Pierre Brochet complimented the students during an official launch at Laval Police headquarters, April 9. "I hope that it can ultimately become a permanent museum exhibit."
Mayor Marc Demers, who spent most of his career as a Laval Police detective, also graced the well-attended ceremony, together with police service top brass, police officers who worked on the project, college and historical society officials and city politicians.
A detailed itinerary that shows when and where the exhibit will be shown is available on the French-only 50ans.laval.ca website.