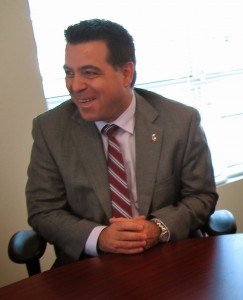 By Robert Frank
www.thesuburban.com
"It's a very responsible budget," David de Cotis told The Suburban after Finance Minister Carlos Leitão tabled the province's financial roadmap for the coming year.
"He is trying to trim $7.2 billion to balance the province's finances. That remains challenging for the province as well as the city, because there's not really much in it for the Laval or other Quebec municipalities," the city's executive committee vice-chairman said in an interview.
He nonetheless welcomed the announcement, March 26, that the province will proceed with the extension of Highway 19.
"There is also a measure that will help Laval homeowners over 65-years-old with their municipal taxes," de Cotis added. "If their earnings are less than $50,000 a year, it will help offset increases in their tax bill."
"Nonetheless, that's the only thing that we really see for Laval," de Cotis continued. "The city is looking forward to renegotiating a new tax agreement for the 2016 budget. There is an expectation that the provincial government will give Laval, Quebec's third-biggest city, what it requires."
Laval executive committee vice-chair David de Cotis
(Photo © Robert Frank)
SWLSB slashed $4.5 million
Meantime, Sir Wilfrid Laurier School Board (SWLSB) officials will huddle this week to figure out how to handle the budget reduction, which sliced much deeper than they had expected.
"We will be meeting throughout April to discuss what to do," SWLSB chair Jennifer Maccarone told The Suburban. "We were expecting new cuts but not to the tune of $4.5 million. It's incredibly damaging."
"The government says that its work to balance the budget places youth at the heart of Quebec's priorities," Maccarone said. "It certainly doesn't feel that way. These cutbacks will have a dire effect upon students. In particular, we're worried about the impact for our most at-risk population, which includes special needs children."
Maccarone's family now risks being directly affected by the cutbacks, since both her children are autistic and attend SWLSB schools.
"I feel a lump in my throat," she confided, urging the province to consider SWLSB's breathtaking efficiency.
"No one disagrees with the need to develop a recovery plan so that we don't end up spending more money paying interest to service the province's debt." Maccarone acknowledged, "But our [overhead] is only 3.5 per cent of our budget. A healthy private corporation is considered to be running a really lean operation if its overhead is 10 per cent."
"At 3.5 per cent, we're building the future leaders of this province," she concluded. "Help us to help you."
Sir Wilfrid Laurier School Board chair Jennifer Maccarone
(Photo © Robert Frank)
(function(i,s,o,g,r,a,m){i['GoogleAnalyticsObject']=r;i[r]=i[r]||function(){
(i[r].q=i[r].q||[]).push(arguments)},i[r].l=1*new Date();a=s.createElement(o),
m=s.getElementsByTagName(o)[0];a.async=1;a.src=g;m.parentNode.insertBefore(a,m)
})(window,document,'script','//www.google-analytics.com/analytics.js','ga');
ga('create', 'UA-45892555-1', 'auto');
ga('send', 'pageview');