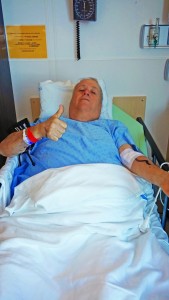 By Robert Frank
www.thesuburban.com
There's a happy coda to last week's report that the Cité de la santé superhospital had turned away Chomedey resident Bruce Alan Gordon from surgery four times since January.
As reported in The Suburban last week, healthcare officials apologized and went out of their way to make amends.
Gordon told The Suburban that the fifth time was a go. They completed the surgery successfully on his fifth attempt, March 6.
"I was the first one in the operating room at 8 a.m. and everything was complete by 9:20 a.m.," he said in an electronic mail message, after he returned home, Friday. "Lucie and I were able to leave the hospital around 10:30 a.m."
Gordon, 61, suffers from kidney disease and needed the surgery to permit him to perform life-sustaining dialysis treatments at home by himself.
Mobility also posed a problem for him to keep returning for postponed surgery appointments, having lost a leg to diabetes a decade ago.
He told The Suburban that he understands that routine surgery must sometimes take second place to emergencies, but that he didn't want to become an emergency case himself. Gordon also said that he hoped that the public attention his predicament garnered will serve to help other hospitalgoers.
(function(i,s,o,g,r,a,m){i['GoogleAnalyticsObject']=r;i[r]=i[r]||function(){
(i[r].q=i[r].q||[]).push(arguments)},i[r].l=1*new Date();a=s.createElement(o),
m=s.getElementsByTagName(o)[0];a.async=1;a.src=g;m.parentNode.insertBefore(a,m)
})(window,document,'script','//www.google-analytics.com/analytics.js','ga');
ga('create', 'UA-45892555-1', 'auto');
ga('send', 'pageview');