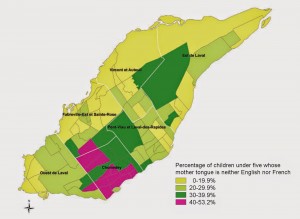 By Robert Frank
www.thesuburban.com
If you're a boy under five living in Laval and don't speak French or English, it's a coin-toss as to whether you're at-risk. According to Quebec's first-ever survey of toddlers, non-francophone Laval children under five are far more vulnerable than the provincial average.
"Language is definitely a factor," acknowledged regional health authority promotion and prevention coordinator Silvio Manfredi. "Half the children in Laval have one or both parents born overseas. If you don't speak either [official] language and were born outside the Canada, there's a 41 per cent change that you are at-risk."
Language is the biggest factor for toddlers who face the biggest risk, as well as where their parents were born. Add in the finding that boys fare far worse than girls, and the rate reaches nearly half. A notable exception is French-speaking children of immigrants, whose much-lower level of risk aligns with the offspring of old-stock French-speakers.
Kids from low-income and single-parent families also face elevated risk, the study found, who are concentrated in central-southern Laval and form the majority in some spots in districts like Chomedey and St. Vincent de Paul, where immigrants typically settle when they first arrive.
"We now have a snapshot of the new reality in Laval," Manfredi told The Suburban. "Today, Laval is Quebec's third most-popular destination for immigrants, after Montreal and Longueuil. It has had a big impact."
He said in an interview that the new data from the survey will help to improve public policy.
"It's important not to be fatalistic," Manfredi urged. "That information is useful to help guide our actions, taking into consideration the immigration factor here. We're already doing something about it."
Last week, the Laval regional health authority hosted a confab to review the situation and urge the 150 participants to bring together a broad spectrum of public agencies to work together toward a solution.
"It's everyone's responsibility," Manfredi explained, "not just the health and social services system. "It has to be a regional effort that involves school, municipal and immigration officials. We should all mobilize and work together, and that's precisely what we're doing. We already have a regional plan which takes that into consideration and have already implemented steps locally to help improve the situation."
"Finally we have statistics about very young children," he concluded. "It's the first time that we have that. We're going to build on that during the coming years. When the results of the next survey in 2017 are compiled, we hope to see an improvement."
Tots whose mother tongue is French fare far better than those who don't—whether they're born here or abroad.
Tots living in poverty are concentrated in several hotspots.

(function(i,s,o,g,r,a,m){i['GoogleAnalyticsObject']=r;i[r]=i[r]||function(){
(i[r].q=i[r].q||[]).push(arguments)},i[r].l=1*new Date();a=s.createElement(o),
m=s.getElementsByTagName(o)[0];a.async=1;a.src=g;m.parentNode.insertBefore(a,m)
})(window,document,'script','//www.google-analytics.com/analytics.js','ga');
ga('create', 'UA-45892555-1', 'auto');
ga('send', 'pageview');