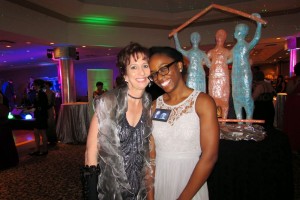 By Rhonda Massad
www.thesuburban.com
The Suburban caught up with Niech'Elle-Simone Skeete while she was volunteering at the West Island Palliative Care Residence's annual Valentine's gala last Friday night. Skeete's mom lived out her final days at the WIPCR in late January.
"Her transition was peaceful thanks to the residence," Skeete told The Suburban.
According to 23-year-old Concordia University graduate, Skeete's mother was diagnosed with aggressive breast cancer that had spread to her brain just a few days before Christmas in 2013. Within five weeks she was gone. She spent about nine days at the residence where she was made very comfortable.
She was treated in two hospitals where we had limited resources," Skeete explained, "her end of life experience at the centre was a completely different experience. Someone was with her 24/7, either a nurse or a patient care volunteer. There was always a doctor there to answer any questions we had."
"As soon as we got there we could see a difference in her demeanour and that made it easier for me."
"At the residence we had access to social workers," Skeete continued, "I was 20 and my sister was 26 and we needed help. We were both in school and it was hard for us to continue. We got a lot of support from the residence that was not available before we got there."
WIPCR annual Valentine's Day gala netted more than $440,000 with more than 500 guests joining the festivities at Chateau Vaudreuil.
The West Island Palliative Care Residence is a non-profit institution, accredited by the Quebec government to provide palliative care health services. Opened in 2002 with nine beds, a 2012 expansion increased its capacity to 23 beds, making it the largest stand-alone palliative care residence in Canada.
Niech'Elle-Simone Skeete and Theresa Dellar at the WIPCR Valentine's Gala which raised more than $440,000 for the residence.
(function(i,s,o,g,r,a,m){i['GoogleAnalyticsObject']=r;i[r]=i[r]||function(){
(i[r].q=i[r].q||[]).push(arguments)},i[r].l=1*new Date();a=s.createElement(o),
m=s.getElementsByTagName(o)[0];a.async=1;a.src=g;m.parentNode.insertBefore(a,m)
})(window,document,'script','//www.google-analytics.com/analytics.js','ga');
ga('create', 'UA-45892555-1', 'auto');
ga('send', 'pageview');