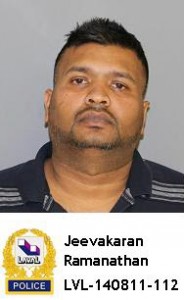 POLICE BEAT
By Robert Frank
www.newscoverage.org
Chomedey resident Jeevakaran Ramanathan, 35, appeared in criminal court, Feb. 12, to face fraud charges and are searching for another Chomedey resident, Sritharan Kandasamy, whom Laval Police allege was his accomplice.
"Between May-Aug. 2014, the suspects used another person's name to order pizzeria merchandise," said Const. Jolyane Ledoux. "He was paying by cheque. There was a delay between when the supplier received the cheques and discovered that there were no funds in the account."
"Investigators found 20 point-of-sale terminals, stolen good, counterfeit money and many fake identity documents related to the frauds, when they executed three search warrants, Feb. 11," she reported. "They are continuing their investigation and more charges might be filed at a later date."
Meantime, Laval Police are asking anyone who might be able to help them locate Kandasamy, who operated a Chomedey transportation firm, to call their confidential tip line [450] 662-4636 and mention file nº LVL-140811-112.
Cops catch catalytic converter crooks
Laval Police credit an alert Bois de Boulogne resident for helping them to catch a pair of alleged catalytic converter thieves, Feb. 6. Last year, criminals cut some $200,000 worth of the automobile pollution control devices off of Laval vehicles.
Const. Franco di Genova commended the witness.
"At 12:40 a.m., the witness looked out his apartment window, spotted someone lying underneath his vehicle and called 911," he told The Suburban. "He did everything right: He didn't physically intervene. He gave us the make and model of the suspects' car and its license plate number."
Within three minutes, a patrol car arrived, but the suspects had fled.
"They found the vehicle in a nearby parking lot with a nervous woman, a 32-year old Mirabel resident, and 27-year-old man from Blainville inside," Const. di Genova said in an interview. "While one officer checked the couple's identification on the police computer, the other noticed a catalytic converter and two reciprocating saws on the back seat."
"They arrested the two suspects and subsequently found seven more catalytic converters in the vehicle," he continued.
The devices can cost $1,500 to replace (or up to $5,000 for a truck) and the stolen converters fetch $130 from used parts dealers, according to United States law enforcement officials.
The catalytic converters contain a thin internal coating of platinum that dramatically reduces air pollution. Even though there is only a tiny amount of platinum in a catalytic converter, the metal is worth more than gold, fetching nearly $1,550/oz at the time of the arrests.
The converters also contain other valuable metals like palladium, whose price has soared to nearly $1,000/oz, and rhodium, whose price was a whapping $1,500/oz at the time of the arrests.