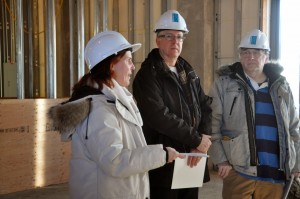 By Rhonda Massad
www.thesuburban.com
The Beaconsfield Batshaw campus, which will house 24 young people in an open setting, is scheduled for occupancy this summer. In late January, a tour of the shell of the building was granted to a select few.
"This tour was very small," Batshaw's public relations officer Claire Roy told The Suburban in an interview. "Only a few members of our board, the committee and Beaconsfield city Councillor Pierre Demers and president of the Beaconsfield Citizens Association (BCA) Al Gardner, who have been very, very, supportive through this whole process were invited."
"The interior construction of the project will begin Feb. 2," she continued.
According to Demers, Batshaw presented each participant with a portfolio showing the interior plans for the Beaconsfield location.
"The interior is very well laid out. The central office of the floor supervisor is located at the centre of the building allowing for optimal visibility," Demers told The Suburban in a telephone interview. "The building is designed to promote safety for the clientele that will be staying there."
BCA president Gardner agreed with Demers. The two also agreed that Batshaw has proven to be receptive and cooperative throughout the construction process in Beaconsfield.
"The construction project went extremely well," Gardner explained, "We had no major complaints about noise or any annoyances. Throughout the process, Batshaw has been very communicative. Any information that we asked for has been provided in a timely manner. The construction foreman kept us fully in the loop along the way with progress reports."
"We had issues up front but, once the citizens committee was formed, Batshaw has bent over backwards to meet our concerns," Gardner said, "the final concern would be the impact on property value but since they have done everything to blend in well. It is looking positive that there should be no negative impact on that front."
According to Demers, representatives from Batshaw have been present at every public council meeting since construction began as an expression of community involvement.
The first pavilion that will house 24 adolescents will be divided into two units on two separate floors. It is designed to offer safe and friendly living space.
Each unit will offer a common lounge area, an activities hall and a multi media room.
There will be a kitchen designed to teach the adolescents how to prepare their own meals, as well as meditation and quiet rooms.
(Left to right) Batshaw project director Linda Corbeil shows progress on construction of its new open custody facility to Beaconsfield Councillor Pierre Demers, Beaconsfield Citizens Association president Al Gardner.