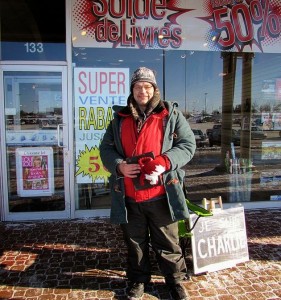 By Rhonda Massad
www.thesuburban.com
The first publication of Charlie Hebdo since the bloodbath in Paris last week was sought far and wide, with waiting lists and lineups for those eager to get their hands on a copy.
Dylan Leggo from Gaspé camped out in front of Multimag in Pointe Claire overnight on Jan. 15, to ensure he was first in line to get a copy.

"It is a historic moment," Leggo told The Suburban in a below-zero interview, "I have always been an advocate of free speech and free press. I cannot imagine a greater affront to our sensibilities than what took place in Paris."
"I think it's great that we don't wish to offend people, but if we start to enforce it, we run the risk of sending out a message that whatever you want us to do, just hit us. That is capitulation and if we follow that path it will enable the problem rather than confront it," he continued, "Free women are offensive to these sorts, their sensibilities should not be something that we are bargaining with."

Multimag received ten copies, an abnormal delivery for the location.
"We do not normally get this publication but today we will get ten and one is definitely going to Dylan, because he was the first one here," said Multimag sales clerk Alexandria Norquay.
"If we follow the path of capitulation it will enable the problem rather than confront it. If anything is more offensive than mass murder it certainly is not cartoons," Dylan Leggo said, after camping out through the night to get the sought-after copy of Charlie Hebdo.
(Photo © Rhonda Massad)