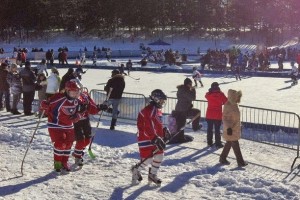 Molson still mum on pro team to play Place Bell
By Robert Frank
www.thesuburban.com
Six teams of young hockey players will converge in St. Vincent de Paul, Saturday, for the first Winter Classic Hockey Tournament.
"It's the first outdoor tournament in Laval history," enthused Laval executive committee vice-chair David de Cotis.
"This family-centred activity will kick-start the city's official 50th anniversary celebrations," he told The Suburban. "Dozens of kids from the region will play three matches at the Nature Centre, Jan. 17."
"Admission is free and the public is invited to celebrate," de Cotis said in an interview. "St. Vincent de Paul Councillor Paolo Galati will be on hand, and we are still awaiting word as to whether Mayor Marc Demers will be available to drop the ceremonial first puck."
Bantam hockey's Dodge Cup will also return to Laval, April 15-19, he added.
"Players from throughout Quebec will come to Laval to play," de Cotis said. "Laval hotels are already booked solid for those dates."
Whither Bulldogs? Canadiens?
Meantime, the buzz out of Hamilton is that the Bulldogs minor league hockey team will stay put there.
Last month, de Cotis told The Suburban that "The only two professional teams that [Geoff Molson] owns are the Montreal Canadiens and the Hamilton Bulldogs."
"The Canadiens will play at least some exhibition games at Place Bell," he added.
"Geoff Molson promised Laval a professional team," de Cotis reaffirmed last week, in a follow-up interview. "Will he buy another team and move it to Laval? We don't know. But Mr. Molson is a man of his word."
Dozens of young amateur hockey players to meet at Laval's Nature Centre, Jan. 17.
(function(i,s,o,g,r,a,m){i['GoogleAnalyticsObject']=r;i[r]=i[r]||function(){
(i[r].q=i[r].q||[]).push(arguments)},i[r].l=1*new Date();a=s.createElement(o),
m=s.getElementsByTagName(o)[0];a.async=1;a.src=g;m.parentNode.insertBefore(a,m)
})(window,document,'script','//www.google-analytics.com/analytics.js','ga');
ga('create', 'UA-45892555-1', 'auto');
ga('send', 'pageview');