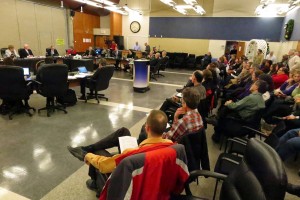 By Robert Frank
www.thesuburban.com
Lester B. Pearson School Board's (LBPSB) draft homeschooling policy drew a standing-room-only crowd to its Dec. 15 commissioners meeting.
Most of those who packed the council chamber were parents who home school their children, who were concerned by the draft LBPSB policy strictures.
The problem, Home Schooling Legal Defence Association representative Carole Cardinal told The Suburban, is that school boards generally put too much emphasis on process and not enough on outcome.
"Most school boards' home schooling policy wants homeschoolers to duplicate the school at home," she said in an interview.
"Not truant"
Cardinal cited examples of school boards using the youth protection system to strong-arm homeschoolers.
"These parents are courageous, because they're threatened if they don't jump through the hoops," she explained. "They are afraid that they will be referred to youth protection officials for truancy if they fail to comply.
Cardinal admonished the administrative high-handedness as a misuse of the province's truancy laws.
"Home schooled children are not truant," she asserted. "They are not in school, period. It's a misuse of the law."
LBPSB alarmed the homeschoolers because they were never consulted nor made aware of the impending policy until Verdun resident Keith Robertson alerted them, Dec. 12, the Friday before the LBPSB council meeting.
"When it was brought up for consultation last year, I was the Beurling Academy governing board chair," he told The Suburban. "We said 'What do we know about home schooling? What do we care? Next.' The central parents committee did the same thing. They said 'We can't comment.' All the governing boards said that they couldn't give any input."
Decision postponed


Cardinal told the council that LBPSB's draft policy was more inflexible than the Quebec Education Ministry's.
"We request that a dialogue be established between homeschooling representatives and LBPSB before another policy is adopted that will cause problems," she told the commissioners.
At the urging of commissioners Mary Ann Davis and Laura Derry, the council voted, to loud applause from the audience, to postpone its vote on its draft homeschool policy "until the new year", to permit LBPSB time to consult the main stakeholders.
School board chair Suanne Stein Day also earned applause for apologizing to the homeschoolers for LBPSB's failure to consult them.
"Clearly the intent of the council is that it needs input from stakeholders," she told them.
Cardinal told The Suburban afterward that she welcomed the LBPSB decision. "This is the start of a process of negotiation of something acceptable to both parties," she said.
Homeschool parents told The Suburban that they fear reprisal if they don't comply with school board demands.
(Photo © Robert Frank)
(function(i,s,o,g,r,a,m){i['GoogleAnalyticsObject']=r;i[r]=i[r]||function(){
(i[r].q=i[r].q||[]).push(arguments)},i[r].l=1*new Date();a=s.createElement(o),
m=s.getElementsByTagName(o)[0];a.async=1;a.src=g;m.parentNode.insertBefore(a,m)
})(window,document,'script','//www.google-analytics.com/analytics.js','ga');
ga('create', 'UA-45892555-1', 'auto');
ga('send', 'pageview');