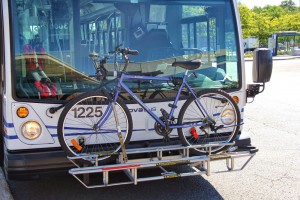 By Robert Frank
www.thesuburban.com
"This year, more than 2,300 people used the Cyclobus service," Laval transit authority chair David de Cotis told The Suburban. "It has grown more and more popular since its introduction in 2012."
That figure is almost double the 1,300-plus riders who used the service in 2013, when all Laval buses were equipped with front-mounted bike-racks.
When a bus arrives, cyclists merely indicate to the driver that they intend to use the rack and are directed by the driver to install the bike.
"It allows people to combine public transportation with the city's bike paths and encourages them to drive cars less," enthused Decotis, who also serves as vice-chair of the city's executive committee. "The result? They're in better shape, breathe fresh air and reduce their carbon footprint. It's an economic, environment-friendly and expeditious form of transportation."
He announced during the interview that next year commuters will once again be able to take their bicycles aboard city buses.
Three-season service
"The season will start May 1 and end Oct. 31," de Cotis said. "We received a number of requests for us to prolong the CycloBus season, but unfortunately we can't. The law says that when it gets dark at night, you can't put a bicycle on a CycloBus."
"Even offering the service until the end of October is pushing the limit," de Cotis added, "because the days grow shorter, which makes it difficult to maintain service."
He noted that Laval already keeps 175 km of bike paths open from Apr. 15-Nov. 14. According to STL, more than one if four cyclists (27%) start pedaling in April and nearly one in seven (15%) are still doing so during November.
The program began with a 2012 pilot project, and was extended to all 44 Laval bus routes in 2013.
"We received no complaints and there were no incidents in 2013 or 2014," Société de transport de Laval (STL) ceo Guy Picard said in a statement, in which he extolled CycloBus' ease of use, user-friendliness and accessibility.
He attributed STL's success in nearly doubling CycloBus participation this year to an active promotion campaign. The transit authority hired a team of cyclists to patrol Sainte Rose and Duvernay districts this summer, where they promoted the system.
STL said that CycloBus puts distant destinations within cyclists' reach, particularly since also bicycles can now be taken on the first car of Metro trains.
(function(i,s,o,g,r,a,m){i['GoogleAnalyticsObject']=r;i[r]=i[r]||function(){
(i[r].q=i[r].q||[]).push(arguments)},i[r].l=1*new Date();a=s.createElement(o),
m=s.getElementsByTagName(o)[0];a.async=1;a.src=g;m.parentNode.insertBefore(a,m)
})(window,document,'script','//www.google-analytics.com/analytics.js','ga');
ga('create', 'UA-45892555-1', 'auto');
ga('send', 'pageview');