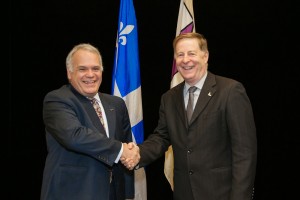 By Robert Frank
www.thesuburban.com
Mayor Marc Demers has broken new ground by bringing in 10 University of Quebec academics to help fix the dodgy bits of Laval's civic administration.
The city signed an agreement, Dec. 2, with the Quebec City-based École nationale d'administration publique, (ÉNAP) during an official ceremony at city hall.
The ten scholars began shadowing senior city mandarins Nov 17. Their goal is to suggest ways to improve Laval's municipal civil service, before their mandate wraps up at the end of January 2016.
"We intend to help senior managers and elected officials to ensure that all processes, including decision making, are made transparent, and to set forth how to revamp them, so as to attain the highest standards of governance, based on best practices," Nelson Michaud, whom the Quebec government appointed in 2011 to head ÉNAP, said in a statement.
Once they get a close-up look at how the city is run, the academic minion will scrutinize 25 areas that the Demers administration wants to improve, including ethics and probity, municipal bylaws, organizational restructuring, management by performance, and strategic planning as well as public and human resources management.
"We're determined to implement transparent, modern means to manage information, impose financial controls and establish clear-cut reporting lines and accountability," the mayor said in a statement.
City spokeswoman Nadine Lussier told The Suburban that Laval's political and administrative leadership both endorsed the unique approach of engaging academics to help overhaul the city's civil service.
"ÉNAP will work with us but at the same time collect data that will be used for the next generation of students," said Lussier, who earned her master's degree there.
She added that confidentiality clauses have been incorporated into the agreement that ÉNAP has signed with the city.
"Whenever you work with university professors, they use some parts of it for their teaching, but they do not share information that should not be," Lussier reassured.
The head of Laval's municipal opposition party Action Laval questioned the expense that bringing in the brain trust will entail.
"The city has just hired several assistant directors-general who are paid up to $160,000 a year plus fringe benefits," Jean-Claude Gobé told The Suburban. "These people were brought in for their experience. Why do we now have to pay ÉNAP? Aren't the people whom we have hired at great expense competent? Do they need ÉNAP to tell them what to do?"
Gobé also questioned why more boffins are needed, when the city already paid tens of thousands of dollars in consulting fees to Institute for Governance of Private and Public Organizations to propose changes.
"That study dwelt upon the city's 15 paramunicipal bodies," explained Laval executive committee vice-chairman David de Cotis. "The city manager and his team need someone to help illuminate how to move forward with changes to the city's management and legal practices."
Ten École national d'administration publique (ÉNAP) profes- sors will spend the next 13 months as city hall insiders, thanks to a deal inked between Laval Mayor Marc Demers (right) and ÉNAP chief Nelson Michaud (left), Dec. 2.