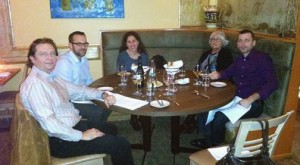 By Michelle Pucci
www.thesuburban.com
Three Laval companies returned from a trade mission in Vancouver organized by Laval Technopole on Nov. 20, after successfully meeting with local businesses there to build transnational relations.
"It's on location. It's not in a hotel and it's not a speed-dating process," said Bruno Séguin, Laval Technopole International Business Centre's acting director. "We have them go visit the potential partner or customer in their facilities or office."
Through the International Business Centre, Laval Technopole reaches out to small business and supports export-oriented companies from Laval that want to do business outside of Quebec and Canada.
In the case of Vancouver-Laval trade, Technopole spotted a void that's ripe to be filled.
"Even though it's in the same country there's almost no business connection between British Columbia and Quebec," said Séguin.
The centre organizes coaching programmes, training seminars, and trade missions twice a year to encourage business-to-business (B2B) relations.
Usually four or five companies from very different sectors participate in the missions, because the process is customized and require a lot of preparation. That includes working with companies on their sales pitch and goals. Technopole also tasks an on-site consultant to set up meetings with relevant businesses.
"It's the best way to do a trade mission," said Séguin. "It's not the cheapest way, but it generates results."
It's hard to get the results right after the trip said Frédérique Boissier, who follows companies during the mission, but the centre checks in with companies within a year to follow-up on agreements and learn the results. It estimates that the last trade mission to France garnered $3.2 million in sales.
The three companies that participated in the Vancouver visit were Devrun, a web developer that already does business in Los Angeles; BONE Structure, which produces kits for building steel-framed homes; and Odotrack, which logs the mileage done for work purposes and automates paperwork used for taxes.
In Vancouver, BONE Structure was looking for local suppliers of steel, doors and windows to help sell its products. It already has an office in California.
Another company, Pivot 88, will make the trip in January. It provides software for manufacturers with suppliers abroad. Its product helps with quality control by tracking production and appeals specifically to companies with suppliers in China.
"Vancouver is a gateway to China and Asia," said Séguin. "So it's a natural market for Pivot 88."
A fifth company, Hydrolico International, produces spare parts for hydraulic and pneumatic products—think farm equipment and garbage trucks. It will be making the trip before the end of the year. Despite suffering in the past from being uncompetitive in North America, it already has a factory in China and hopes to expand in Western Canada.
(Left to right) Christophe Kassardjian, Frédéric Gemme (BONE Structure), Filomena d'Onofrio (Odotrack) and Marielle and Jonathan Roy (Devrun).