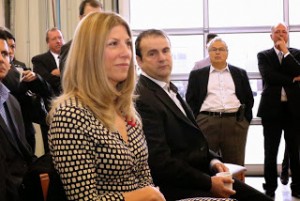 By Robert Frank
www.thesuburban.com
Newly elected chair Jennifer Maccarone and her EducACTION team of school commissioners Dean Dugas, Guy Gagnon, Paolo Galati, Vicki Kaliotzakis, Ann McMullon Panet-Raymond and Emilio Migliozzi will officially take the reins of Sir Wilfrid Laurier School Board (SWLSB) during an official swearing-in ceremony today.
They will take their oaths of office together with the lone elected member of the opposition Students First ticket Ailsa Pehi as well as two independent commissioners, Peter MacLaurin and Robert Dixon.
Maccarone told The Suburban that she attended training sessions last week in downtown Montreal organized by the Quebec English School Boards Association.
The former chair of SWLSB's central parents committee stepped down from that office in favour of its new chair, Lisa Chartier, when the school board election ramped up in October.
Maccarone, who is the mother of two autistic children, also stepped down from her post as chair of SWLSB's special needs committee. As this week's edition of The Suburban went to press, it remained to be seen whether special needs committee vice-chair Pamela Cripton would fill the breach left by Maccarone's departure.
Last week, following the unveiling new, made-in-Quebec battery-powered school buses, Maccarone said that although SWLSB doesn't own school buses itself, she hoped that the school board's transportation contractors would consider acquiring the new, environment-friendly technology.
"This is a very, very exciting, unanticipated development," she said in an interview
New SWLSB chair Jennifer Maccarone attended a Nov. 7 news conference at which the Quebec government announced the advent of electric-only school buses.
(Photo © Robert Frank)